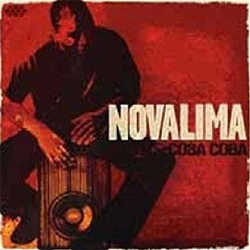 Novalima
Coba Coba (Cumbancha, 2009)
Latin melodies, natty break beats, big afro rhythms, electronica, vintage analogue tape echoes, dubby sirens and muted horns. Put this together with a full array of percussion and there's even an expectancy of a full on drum and bass session, and if the bass lines get deeper it may even break out into dubstep………..what on the Cumbancha label !
Coba Coba, is certainly a departure for the Cumbancha label, from four friends, Ramón Pérez- Prieto, Grimaldo Del Solar, Rafael Morales and Carlos Li Carrillo. Their bonds were forged at high school in Lima before forming the band, Novalima in 2001 and going on to wrack up some serious DJ form.
Establishing the first venue in Lima to feature global beats, acid jazz and other electrostyles, individuals could draw on the experience as they spread their wings to test the decks of Europe and Asia. Rafael became a regular on the London Latin scene, founding La Prison Soundsystem on account of the location of the all night parties in a Brixton flat which faced the prison. Grimaldo was producing beats in Barcelona whilst Ramon spun discs in Parisian clubs including La Fleche D'Or. All of this is evident in perhaps our favorite track Ruperta / Puede Ser, experimental and creative although perhaps lacking the full rawness of a squat gig session.
Their third album, it takes its name from an Afro-Peruvian expression used to incite musicians, go for it, take it…. Coba Coba and this sits well with their extended percussion sessions. Underpinning their fondness for DJ tricks and electronica is the incorporation of roots rhythms from the "Afro-Peru" line stretching back hundreds of years to the days of Spanish colonialism and slavery, where West African slaves were taken to Peru, an outpost of Spanish colonial rule.
The African rhythms are evident in all the tracks but especially notable in, Tumbala, Kumana with inspired change of rhythm half way through , Camote which progresses into a hypnotic Orisha praise driven number. Cowbells, full on bass lines and the energetic drumming of the tom toms. Producer, Tony Economides, ( Bugz in the Attic, Da Lata ) is also bought in to add his special touches and as always with Cumbancha, the production is faultless but I get the feeling that something is a little smoothed out and that Novalima could really let rip. Perhaps this is saved for a live session.
Finally, I love the way the album brings you down, with the track Bolera just in time for an intimate one to one dance before the club flings open its doors to the morning light as you wander off home after a satisfying night out.
Buy the CD:
[This review also appears on http://www.gondwanasound.co.uk]
Author:
Jill Turner
Jill Turner contributes to Songlines Magazine, World Music Central and is on the fRoots critics albums of the year panel. Her radio show GondwanaSound broadcasts on Sheffield Live! 93.2FM to the fourth largest city in the UK and is carried on both Radio Groovalizacion and African Internet Radio.