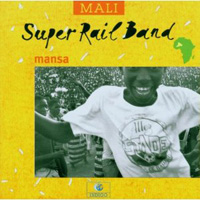 Super Rail Band De Bamako
Belle Epoque, Vol. 2: Mansa (Sterns Africa STCD 3039-40, 2008)
The Buffet Hotel de la Gare, opened in 1961, was adjacent to the railway station in Bamako, Mali, which was the center of that African nation's post-independence transportation system. By the end of the decade it was also a meeting place for visiting businessmen from the world over, and it was decided that the addition of a band to play regularly in the hotel garden would turn the place into a hot spot of night life as well. That's how the Rail Band (these days called the Super Rail Band) came to be. Given the hotel's international clientele, the band had to be all things to all people musically- and yet still maintain a sense of Mali's traditional Mandingo roots. They struck the right balance thanks to the contributions of key members whose names have become legendary, including singer Salif Keita, balafon player/singer Mory Kanté and guitarist Djelimady Tounkara.
2 Mansa is the second double CD in a three-part series covering the years 1970 to 1983, when the Rail Band's output was a flood of creativity and collaborative genius that survived changes in Africa's music industry and the public's taste in addition to personal and cultural clashes within the band. But they made it all sound easy, if the swinging, deeply infectious music here is any indication.
The guitars were electrified but folkloric strains could still be heard in them; the percussion locked in with equal parts African and Latin polyrhythms; the horns added color and sophistication and the whole ensemble handled songs that ranged in length and scope to encompass elements of rumba, chanson, pop, Afrobeat, highlife or anything else that was called for. While lead vocals were handled on something of a revolving door basis, Keita and Kante (and later lesser-known but abundantly gifted singers like Djelimady Sissoko and Magan Ganessy) saw to it that the singing was every bit as razor-sharp as the playing. There's well over two hours of music between these two discs, and not a second of it will fail to thrill.
Buy the CD:
Author:
Tom Orr
Tom Orr is a California-based writer whose talent and mental stability are of an equally questionable nature. His hobbies include ignoring trends, striking dramatic poses in front of his ever-tolerant wife and watching helplessly as his kids surpass him in all desirable traits.