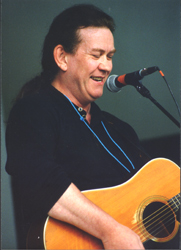 Celtic Connections will unite with Homecoming Scotland to stage some of Scotland's major celebratory events in honor of the 250th anniversary of Robert Burns' birth, which falls on the middle weekend of the festival.
Homecoming Scotland 2009 is a program of events to celebrate Scotland's great contributions to the world, running from 25th January (Burns Night) to 30th November (St Andrew's Day). Inspired by the 250th anniversary of Robert Burns' birth, the Year of Homecoming will encourage Scots, people of Scottish descent, and those who love Scotland to come home in 2009.
Celtic Connections will stage five major Homecoming events plus additional events that have been inspired by the theme of homecoming, bringing together a truly international line-up of great artists who have been inspired by its national bard.
Auld Lang Syne Saturday 24th January Glasgow Royal Concert Hall, Main Auditorium
A major celebratory concert in which some of Scotland's leading musicians and singers, including Dougie MacLean, Karen Matheson, Michael Marra, Karine Polwart, Dick Gaughan, John McCusker and Phil Cunningham unite to celebrate the spirit of Burns. They will be joined by some very special guests. Odetta was scheduled to perform, but she passed away recently.
Jamaican Burns Night Sunday 25th January Old Fruitmarket, Glasgow
A unique mash-up of sounds, styles and flavors featuring Jamaican legends Sly and Robbie and Edward II and a host of Scottish talent, as Celtic Connections takes inspiration from what might have been had Burns made his planned trip to Jamaica. Line-up announced: Edwyn Collins, Karine Polwart and Sharon Shannon have joined the bill and the evening will now feature dub versions of the music of Collins' iconic Glasgow group, Orange Juice as well as specially arranged Burns songs.
Homecoming Scotland Suite Sunday 25th January Glasgow Royal Concert Hall, Main Auditorium
A brand new series of pieces commissioned by Celtic Connections and composed and arranged by eight leading composers – Sally Beamish, Brian Byrne, Steve Forman, Tommy Smith, Patsy Reid, Aidan O'Rourke, Greg Lawson and Chris Stout. The Homecoming Scotland Suite will be performed by the Royal Scottish National Orchestra with guest musicians and vocalists, including Branford Marsalis.
Transatlantic Sessions – Bringing It All Back Home Friday 30th January & Sunday 1st February Glasgow Royal Concert Hall, Main Auditorium
As a fitting finale to Celtic Connections' celebration of Homecoming Scotland 2009, the popular Transatlantic Sessions concerts return to highlight the traditional songs and tunes which crossed the Atlantic with Scottish and Irish emigrants over the last 300 years to form a key bedrock of American roots music. Featuring Nanci Griffith, Kathy Mattea and Dan Tyminski amongst others.
Other Celtic Connections events with a Homecoming theme include Eddi Reader Sings the Songs of Robert Burns, Homebound, the All Star Ceilidh and a Twelve Hour Burns Marathon – a performance of 250 Burns' songs to celebrate his 250th anniversary.
Venues:
1 – Glasgow Royal Concert Hall (GRCH) – Over 100 events including workshops, open stage shows and big gigs in the Auditorium.
2 – City Halls – (around 25 events) including the whisky workshops with master classes and tastings
3 – Old Fruitmarket –.(next to the City Halls, around 15 events, most of them of great quality)
4 – ABC – 14 excellent events
5 – St Andrew's In The Square – 12 events at the church, all at 20h.
6 – Universal – "Songs of Scotland"
7 – Tron Theatre – 7 events, theatre included.
8 – Classic Grand – 9 events, on the second floor, at 20h.
9 – Oran Mor – 9 events in the farthest venue.
10 – Celtic ConnectionsA – Ceòl's Craic, films and workshops for 3 days (Jan. 22nd to 24th )
11 – Tall Ship – This boat will host 4 events between the 22nd and the 25th of January)
12 – Pacific Quay (BBC Radio Scotland studios) –
13 – George Square – Torchlight parade with pipe band on the very first afternoon.
14 – Quality Central Hotel – Festival club sessions every night at 22.30h., with the chance to see the artists missed during the day
More at www.celticconnections.com