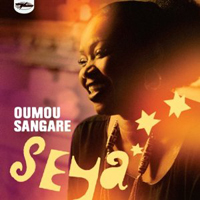 Oumou Sangare
Seya (World Circuit WLWCD081, 2009)
It's been a long time since new music by Mali's Oumou Sangare has been heard outside her home country. There were some never-before-on-CD songs throughout her double-disc 2003 release Oumou, which was otherwise a retrospective. Some of those new songs hinted at a different direction for Sangare's wassulu, a pulsating musical style rooted in Mali's remote southern forest region and built around acoustic instruments like the kamele ngoni harp. Her first two albums stuck to a largely traditional vibe in which her refined wail of a voice was right at home and her songwriting pulled no punches in establishing an bold, assertive stance rare for a woman in Malian society.
The 1997 album Worotan (Sangare's last full-length international release) added horns and a bit of Afro-soul to the mix though it retained the tart, sharply defined rhythms and soaring vocals of wassulu. Sangare spent much of the next decade engaged in business and humanitarian pursuits as fans worldwide eagerly awaited her return to making music on something of a full time basis.
And now that time has come. Well, very soon anyway. Oumou Sangare's new disc Seya (Joy), recorded in her hometown of Bamako, is due for release on February 23rd. I was fairly giddy with anticipation as I dropped an advance copy into my CD player, and on first listening I was certainly not disappointed. In fact, I was elated. That voice of hers, which can slip easily from lullaby-like hush to husky seductiveness to spirited blues testimony, has never sounded better or more nuanced.
As on her previous albums, she sets up a hypnotic call-and-response with her female backing singers that settles comfortably yet mystically into the musical arrangements. And what arrangements they are. Sangare sought out Mali's Cheikh Tidiane Seck (who produced Seya along with World Circuit label head Nick Gold and Sangare herself) to take her sound to new heights, making the album absolutely soar as a result. Songs such as "Sounsoumba," "Wele Wele Wintou," "Iyo Djeli" and the title track give an additional funk kick to the rustic wassulu groove while the likes of "Sukunyali," "Senkele Te Sira" and "Djigui" stick closer to the roots.
Then there are the tracks- "Koroko" and the reggae-like "Kounadya" among them -that seem to start off firmly entrenched in Mali before moving delightfully off in other directions. This is one of those albums where nearly every small part could be singled out as contributing to the greatness of the whole, leading to an epic length review that I don't have in me and you wouldn't want to read. So I'll give you the short form: Seya is a flat-out fantastic release that's not only Sangare's best to date but a very early contender for one of 2009's best.
Buy the album:
Author:
Tom Orr
Tom Orr is a California-based writer whose talent and mental stability are of an equally questionable nature. His hobbies include ignoring trends, striking dramatic poses in front of his ever-tolerant wife and watching helplessly as his kids surpass him in all desirable traits.