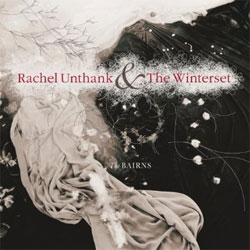 Rachel Unthank & The Winterset
The Bairns (Real World Records, 2008)
Alternating between hauntingly lovely and delightfully quirky, The Bairns, the second album by Rachel Unthank & The Winterset, has blown in on a sea breeze so deliciously rich as to set the current folk music scene listing radically to port. Ripe with traditional English folk tunes and modern songs, sleekly outfitted to the boldly blended vocals of Rachel and Becky Unthank, Belinda O'Hooley and Niopha Keegan, The Bairns sails headlong into a new folk tradition by reaching back into the past. Delving into haunting Northumbrian tunes, snippets of songs from the River Tyne and sweet lullabies, Rachel Unthank & The Winterset offer up an infinitely rich ride.
Listeners are lured from the outset with opening track "Felton Lonnin" with its foot-tapping rhythm, haunting piano and string lines and evocative vocals. The Bairns just gets better and better with tracks like "Blue Bleezing Blind Drunk" with its blowsy vocals of against a curtain of richly worked piano by Ms. O'Hooley and fiddle by Ms. Keegan and the spare "I Wish" with its eerie melodion drone by Julian Sutton. The cleverly blended vocals of "Blue's Gaen Oot O'the Fashion" and "Blackbird" are whirlwinds of sheer delight.
The group's version of Robert Wyatt's "Sea Song" is moody and melancholic, but so good it's hard not to play the track over and over. Deftly worked vocals make tracks like "Whitethorn" and "My Donald" powerful and fearless. "Ma Bonny Lad" with Rachel Unthank on ukulele is simply charming, but it's "Newcastle Lullaby" that stands out as a stunning track with ethereal vocals and innovative piano work.
The Bairns is fresh and powerful slice of new folk. With their provocatively elegant vocals and infinitely rich instrumentation, Rachel Unthank & The Winterset offer up an utterly brilliant collection of songs with The Bairns.
Buy the CD:
Author:
TJ Nelson
TJ Nelson is a regular CD reviewer and editor at World Music Central. She is also a fiction writer. Check out her latest book, Chasing Athena's Shadow.
Set in Pineboro, North Carolina, Chasing Athena's Shadow follows the adventures of Grace, an adult literacy teacher, as she seeks to solve a long forgotten family mystery. Her charmingly dysfunctional family is of little help in her quest. Along with her best friends, an attractive Mexican teacher and an amiable gay chef, Grace must find the one fading memory that holds the key to why Grace's great-grandmother, Athena, shot her husband on the courthouse steps in 1931.
Traversing the line between the Old South and New South, Grace will have to dig into the past to uncover Athena's true crime.