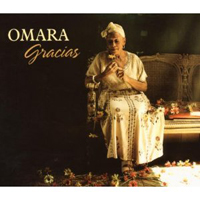 Omara Portuondo – Gracias (World Village/Montuno WVF 479021, 2008)
Buena Vista Social Club – At Carnegie Hall (World Circuit WLWCD080, 2008)
Ah, the Buena Vista Social Club- that happiest of accidents which led to an unprecedented world music phenomenon with mainstream appeal that no one could have predicted. You can come up with any number of reasons -real or imagined- as to why BVSC was and is such a success, but to me the quality of the music is the bottom line to which all else is chalked up. More than ten years after the release of the original album, the ripple effect is still being felt. Several key participants have passed on and their contributions are forever etched into the rich history of Cuban music, while those who are still around clearly have good works yet to accomplish.< Take Omara Portuondo, the female voice of BVSC. Her new release Gracias shows that voice to be in aged-to-perfection form after a 60-year career that Portuondo is bringing to something of a full circle with a combination of originals, covers and revisited songs from her own past. She begins the album acapella, sounding so finely honed at the outset of the Henri Salvador composition "Yo Vi" that it's almost a buzz kill when the instruments join in. Soon enough, though, players and singer are in perfect harmony and remain so through the rest of the disc.
Ballads are the main ingredient here and some may find the nostalgia quotient (right down to the many historical photographs included in the CD booklet) off-putting. But few can bring shades of the past to life in the present like Portuondo. What's more, there are subtleties (like the use of Indian tabla drums in addition to the expected Latin percussion) reflective of contemporary, beyond-Cuban-borders ideas that are anything but old and dusty.
Assisting in these richly realized tracks are such esteemed guests as Chico Buarque, Jorge Drexler, Trilok Gurtu, Avishai Cohen, Chucho Valdes and Richard Bona, making Gracias a fusion album founded upon one of Cuba's legendary voices but recorded with the world beyond in mind. We the listeners are the ones who should be giving thanks.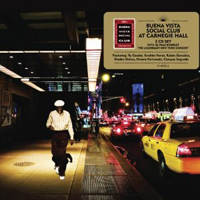 Though it's already been covered on this site, I can't help but add a few words about World Circuit's recent 2 CD set capturing the milestone 1998 Carnegie Hall concert by the Buena Vista Social Club. The gang was all there and they all sounded great, much more like musicians in their prime than musicians in their twilight years.
Songs that became classics as studio-recorded versions are even more full-bodied, from the instantly hypnotic "Chan Chan" to the incendiary "Candela" and the unbeatable combination of Ibrahim Ferrer and Omara Portuondo on "Silencio." Plus, the recording quality is excellent- close your eyes and you'll feel like you're center stage with every singer and player making history all around you.
An excellent revisiting of a once-in-a-lifetime musical event.
Buy the Omara Portuondo CDs:
Buy the Buena Vista Social Club recordings:
Author:
Tom Orr
Tom Orr is a California-based writer whose talent and mental stability are of an equally questionable nature. His hobbies include ignoring trends, striking dramatic poses in front of his ever-tolerant wife and watching helplessly as his kids surpass him in all desirable traits.