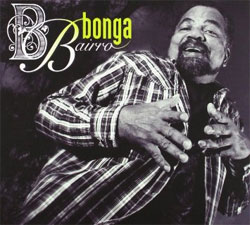 Bonga
Bairro (Lusafrica, 2008)
Variously dubbed the Angolan Rod Stewart or Julio Iglesias but who cares, Bonga, the semba superstar is back with remarkably, his 26th album, Barrio. Fifteen tracks recorded in Lisbon and Paris but rooted most strongly in his childhood neighborhood in Angola. With wry words of wisdom and music to move you, what better way to blow away the winter blues and the bad news of war, global economic turmoil and high energy bills.
Its a captivating, varied album where the sounds of Europe combine with ancestral African roots and journeys out across the Atlantic via Cape Verde onto Brazil and Argentina. Bonga fans will not be disappointed as there's plenty of the accordion driven sound of Semba, the precursor to zouk, kodura and samba and easier to dance to for the over 40's and to keep us on our toes, there's a little dash of Latin and kizomba.
Easing us in, the album opens with Barrio, or neighborhood, setting the scene for a reflective look at, the Marcal neighborhood of Luanda where Bonga grew up, amidst the poverty of shanty towns and the partisan and ethnic conflicts that have devastated his country for decades. Smoky, husky vocals delivered with poise and passion, not too dissimilar to of the tango singer Melingo. It is perhaps on the track Kipiri, the place of his birth in the Northern Bengo Province that he reserves the most emotion, expressing that special mix of joy, sorrow and hope for things past, that's called saudade, a feeling that's known and a knowledge that is felt.
As well as having great musical talents, its worth checking out his life story whilst listening to the album. Bonga was a bit of an athlete in his time holding his country's 400 metre record. A star athlete he was able to travel outside of Angola and speak out against colonialism and independence. Vocal opposition that led to him fleeing to Rotterdam in the early 70's but ironically, it was the lyrics of his music that would force the Angolan government to issue a warrant for his arrest.
Listening to the uplifting tracks of Zukada and Nguenda, I'm thinking they'd make fantastic duets with either Cape Verdean, Cesaria Evora or Portuguese Fado singer Mariza.
Saving the best to last the album finishes in style with two rousing tracks, Brukutu and Palanka Bue. Its not surprising that Bonga is gathering a new fan base amongst the young who flocked to a recent personal appearance and CD signing in Launda, buying 250,000 copies of Barrio in five hours
Buy the CD:
Author:
Jill Turner
Jill Turner contributes to Songlines Magazine, World Music Central and is on the fRoots critics albums of the year panel. Her radio show GondwanaSound broadcasts on Sheffield Live! 93.2FM to the fourth largest city in the UK and is carried on both Radio Groovalizacion and African Internet Radio.