[caption id="attachment_41949″ align="alignright" width="120″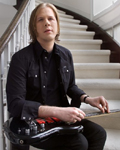 Jeff Healey[/captionWorld Music Central's list of musicians, scholars and music industry professionals who left us in 2008.
March
2
Jeff Healey, 41, musician and vocalist. Mr. Healey was a jazz and rock guitarist and vocalist. He toured with the likes of Stevie Ray Vaughn, B.B. King and Eric Clapton as well as forming several bands over the years. His recordings include See the Light, Adventures in Jazzland and the 2008 release Mess of Blues.
3
Guiseppe Di Stefano, 86, singer. Italian tenor, Guiseppe Di Stefano was a renowned in the world of opera throughout the 1940s to the 1970s. Often touring and recording with Maria Callas, Di Stefano was also praised for his recorded performances of Madame Butterfly, La Traviata and La Gioconda.
Norman "Hurricane" Smith, 85, singer and recording engineer and producer. Finding little success as a jazz musician, Mr. Smith was given an opportunity to become an apprentice sound engineer with EMI. He went on to engineer all the EMI recordings of The Beatles until 1965, when he was made a producer. He is credited with producing the Rubber Soul recording. He would later go on to produce for Pink Floyd. He did record the songs "Don't Let It Die" and "Oh Babe What Would You Say?" under the name Hurricane Smith.
4
Leonard Rosenman, 83, composer. Mr. Rosenman composed film scores for such films as East of Eden, Rebel Without a Cause and Star Trek IV: The Voyage Home. He also composed for television series as Twilight Zone and Marcus Welby, M.D.
6
Gloria Shayne Baker, 84, songwriter. Ms. Baker is perhaps best known for co-composing the Christmas classic "Do You Hear What I Hear?" with husband Noel Regney. The pair also composed the songs "Rain Rain Go Away" and "Sweet Little Darlin.'" Ms. Baker went on to compose the song "Goodbye Cruel World."
Lili Boniche, 87, singer and composer. From a Sephardic Jewish family and born in Algiers, Mr. Boniche was best known as a singer of Andalusian-Arab song. He also composed. His discography includes the works Euvres Récentes and Il n'y a Qu'un Seul Dieu: .Live à l'Olympia.
9
Samy Al-Maghribi, 86, musician, composer and singer. Mr. Al-Maghribi was regarded as a consummate oud player throughout the Andalusian music scene. Leaving Morocco for Canada, he spent many years as a cantor for Montreal's Spanish and Portuguese Synagogue. He would later move to Israel to work with the Israeli Andalusian Orchestra.
10
Chuck Day, 65, musician. Blues guitarist from the South Side Chicago, Mr. Day would move to Los Angeles where he soon became the bassist for the Johnny Rivers' Band and is credited with coming up with the riff for "Secret Agent Man." He would go on to play with The Mammas and the Pappas on such hits as "Monday, Monday" and "California Dreamin.'" His discography includes Ponytail Partner/Since You Left Me, How Do I Do It and We Gotta Get Outta This Place.
Dennis Irwin, 56, musician. jazz double bassist, Mr. Irwin played and recorded with such artists as John Scofield, Ted Curson, Tania Maria and Chet Baker. He also recorded with Art Blakey and the Jazz Messengers on the recordings Heat Wave, Night in Tunisia and Works of Art.
12
Alun Hoddinott, 78, composer. A prolific, Welsh classical composer, Mr. Hoddinott is remembered for compositions that included symphonies, concertos and sonatas and a career that spanned from the late 1940s into 2007. His discography includes the works Nocturne For Orchestra, Toccata Alla Giga For Organ, and The Tree Of Life, Oratorio.
13
Bill Bolick, 90, musician and singer. Part of the country music duo The Blue Sky Boys, Mr. Bolick with brother Earl recorded over 100 songs for RCA in the years between 1937 and 1941. Eventually, the duo gave up performing, but returned to music after radio recordings of the The Blue Sky Boys were on Starday Records. They would again record in 1975 with Rounder Records.
Martin Fierro, 66, musician. Tenor saxophonist, Mr. Fierro was known throughout the jazz, rock and avant-garde music scenes. He played with the likes of Jerry Garcia, Quicksilver Messenger Service, Loudon Wainwright II, the Sir Douglas Quintet and the Allman Brothers.
15
Mikey Dread, 54, singer, broadcaster and record producer. Born Michael George Campbell, Mr. Dread began his musical career as an engineer for Jamaican Broadcasting Corporation. He eventually parlayed that into his own radio program Dread at the Controls. A prolific reggae singer and producer, Mr. Dread went on to record such albums as Dread at the Controls, Evolutionary Rockers, World War III, Rasta in Control and Life Is a Stage. He also produced for the British punk group The Clash.
Vytautas Kernagis, 56, singer and songwriter. Mr. Kernagis was member of the Lithuanian big beat bands Aisčiai and Rupūs Miltai. In addition, he was a participating member in the first Lithuanian rock opera Velnio Nuotaka and the first Lithuanian puppet theater musical Šokantis Ir Dainuojantis Mergaitės Vieversėlis.
16
Ola Brunkert, 61, musician. Mr. Brunkert was the main sessions drummer for the group ABBA. While he was not featured as part of the group, Mr. Brunkert played on "People Need Love," "Waterloo" and a majority of ABBA's recordings throughout the 1970s.
Daniel MacMaster, 39, singer. Mr. MacMaster was known as a singer for the Canadian and British rock band Bonham. Mr. MacMaster sang on the Bonham recordings The Disregard of Timekeeping and Mad Hatter. He released the solo album Rock Bonham… and the Long Road Back in 2005.
19
Mia Permanto, 19, singer. Ms. Permanto was known as a pop singer and radio program host. She placed sixth in the 2007 Idols, a Finnish version of Pop Idol. She also hosted a radio program called Bad Taste. Her vocals can be heard on the single "Rising Sun" by Heikki Liimatainen and the Cristal Snow recording The Prophecy.
20
Klaus Dinger, 61, musician. Known for his Motorik drumming style, Mr. Dinger began his career in the German music scene with the group Kraftwerk. Later, he formed the group Neu! with fellow musician Michael Rother. Mr. Dinger was also a member of the groups La Dusseldorf and La! Neu?
21
John Fowler, 42, musician. Mr. Fowler was a drummer and original member of the group Steelheart, playing on the group's recordings Steelheart and Tangled in Reins. He was also a member of the bands Hipnotic, Rage of Angels and Voodoo Jets.
Shusha Guppy, 72, singer. Born Shamsi Assār, Ms. Guppy was an Iranian writer, editor and singer of Persian folk songs. Trained an opera singer, Ms. Guppy would go on to record Persian folk songs and later lend her voice to chansons and French folk songs. Her discography includes Persian Love Songs and Mystic Chants, Shusha and Durable Fire.
22
Israel "Cachao" López, 89, musician. Simply known as "Cachao," Mr. López was a renowned Cuban bassist, musician and composer and considered by many as "the inventor of the mambo." Earning a Hollywood Walk of Fame star and several Grammy Awards, Mr. López played with the likes of Celia Cruz, Tito Puente, Paquito D'Rivera and Willie Colon. His discography includes such recordings as Bebo & Cachao, Havana Sessions, Ahora Si, Dos, La Leyenda: 15 Danzones Clasicos, El Gran Cachao, Descargas, Descargas y Mambos and Cuba Linda.
23
Big Jack Armstrong, 62, radio DJ. Born John Charles Larsh, Big Jack Armstrong was known as a Top 40 disc jockey from the 1960s until the 1980s. He later went on to DJ on an oldies format. He started out at WCHL in Chapel Hill, NC and would go on to national success at WIXY in Cleveland, Ohio. Mr. Armstrong would go on to work in the Boston, Toronto, Los Angel and Pittsburgh markets.
24
Chalmers Alford, 53, musician. jazz guitarist and winner of three Grammys, Mr. Alford spent the 1960s, 70s and 80s lending his considerable talent to such groups as Mighty Clouds of Joy and later in the 90's and into 2000 he joined the new soul sound for the likes of D'Angelo and Tony Toni Toné. He can be heard on Stan Jones's Out of the Shadows, D'Angelo's Voodoo and Raphael Saadiq's Instant Vintage.
25
Gene Puerling, 78, singer and music arranger. Mr. Puerling was the creator of vocal groups The Hi-Lo's and The Singers Unlimited. His arrangement for The Manhattan Transfer's"A Nightingale Sang in Berkeley Square" earned him a Grammy award for Best Vocal Arrangement for Two or More Voices.
27
Madan Lal Koser, 80, artist. Mr. Koser was the founder of the Pracheen kala Kendra, an institution with 3,500 centers across India, based on the preservation and promotion of Indian traditional music and dance. Mr. Koser was the recipient of the Uday Shankar Award, Gopi Krishan Award and the title of Nritya Shiromani, Nritya Samrat.
29
Allan Ganley, 77, musician and arranger. Mr. Ganley was a jazz drummer who started out with the dance band led by Bert Ambrose. He would later go on to play in Johnny Dankworth's band and perform with Derek Smith, Dizzy Reece and Ronnie Scott. He was also co-leader of the group Jazzmakers.
30
Anders Göthberg, 32, musician. Mr. Göthberg was a guitarist for Broder Daniel and Honey is Cool.
Sean Levert, 39, singer. Son of The O'Jays Eddie Levert, Sean Levert began his career with older brother Gerald and friend Marc Gordon in the R & B group LeVert, who went on to create hits "(Pop, Pop, Pop, Pop) Goes My Mind" and "Casanova." He is also remembered for solo album The Other Side with singles "Put Your Body Where Your Mouth Is" and "Same One".
Author:
TJ Nelson
TJ Nelson is a regular CD reviewer and editor at World Music Central. She is also a fiction writer. Check out her latest book, Chasing Athena's Shadow.
Set in Pineboro, North Carolina, Chasing Athena's Shadow follows the adventures of Grace, an adult literacy teacher, as she seeks to solve a long forgotten family mystery. Her charmingly dysfunctional family is of little help in her quest. Along with her best friends, an attractive Mexican teacher and an amiable gay chef, Grace must find the one fading memory that holds the key to why Grace's great-grandmother, Athena, shot her husband on the courthouse steps in 1931.
Traversing the line between the Old South and New South, Grace will have to dig into the past to uncover Athena's true crime.