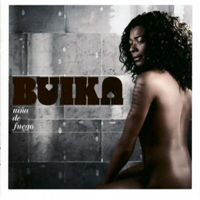 Buika
Niña de Fuego (Warner Music Latina 513004, 2008)
It was the flamenco feel that I first caught upon listening to Spain's Concha Buika, but I soon found that "La Falsa Moneda," the first track on her new album Niña de Fuego, was reminding me a lot of the Afro-Peruvian shuffle of Susana Baca. The second song, "Culpa Mia," did a similar flamenco-like setup before evolving into something more along the lines of salsa. And I thought the third, the minimally melancholic "Mienteme Bien" sounded a lot like Portuguese fado with piano instead of guitar. I guess what I'm trying to say here is that this strikingly heartfelt CD by a Spanish singer with Equatorial Guinean roots does indeed use flamenco as its base of operations while going in some other intriguing directions also.
Buika has a slightly gravelly, emotion-drenched voice that she both lets loose and keeps in check (it's a bit bizarre but somehow not surprising that she once worked as a Tina Turner impersonator). Sparse backing (mainly acoustic guitar, piano, bass and cajon with occasional horns and such) gives the vocals all the space they need as well as providing colors that range from flamenco fusion to smoky jazz to light funk while Buika nails every note and phrase. It soon becomes clear that the cover shot of the artist naked is not about titillation but how the music is pure feeling and no façade. These are songs for a late night, a long drive, a quiet moment or a passionate encounter. Absolutely entrancing from beginning to end.
Buy Buika's recordings:
Author:
Tom Orr
Tom Orr is a California-based writer whose talent and mental stability are of an equally questionable nature. His hobbies include ignoring trends, striking dramatic poses in front of his ever-tolerant wife and watching helplessly as his kids surpass him in all desirable traits.