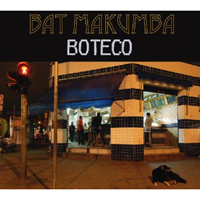 Bat Makumba
Boteco (Bat Makumba Records 665744 10052-4)
San Francisco-based Bat Makumba (named after a Caetano Veloso song) here follow up their debut with another disc of music based around the samba rhythms of Brazil and pumped up with a rocking, funky sense of abandon. The trio- who claim influences ranging from Chico Science and Brazil's [wiki:Tropicalia] originators to the Beatles and Frank Zappa -don't skimp on authentic Brazilian beats that sound straight out of carnaval season, but neither do they stick to the tried and true. They're just as likely to segue from a lounging chill into a high-octane burst of almost heavy metal proportions as they are to mix jazzy drums and bass with subtle electronics and vocals that are anything but.
Unpredictable though they certainly are, they clearly know a thing or two about a good riff or hook, and their varied song structures seem all at once a pastiche of past, present and future sounds. A boteco is a Brazilian bar where Bohemian types come to hang out, hang on or get creative, and Bat Makumba's musical picture of boteco life is vividly engaging. Not for Brazilian music purists, perhaps, though a hell of a lot of fun.
Buy the CD:
Author:
Tom Orr
Tom Orr is a California-based writer whose talent and mental stability are of an equally questionable nature. His hobbies include ignoring trends, striking dramatic poses in front of his ever-tolerant wife and watching helplessly as his kids surpass him in all desirable traits.