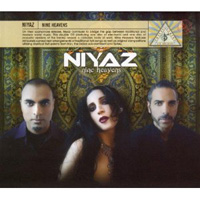 On February 7, the Persian electro-acoustic sensation Niyaz does a hometown record release party in Los Angeles at the El Rey Theatre in support of their latest album, Nine Heavens. The album has been resonating across a wide spectrum of fans worldwide from the younger Persian generation to their parents, to Western ears and more.
Niyaz's 2005 debut album featured a convincing blend of Sufi poetry and trance electronica, and quickly established them as a standout ensemble in a very crowded world music field. Since then Niyaz have become international touring artists performing all over the world from Canada, the United States, Europe to the Middle East. Known for their highly dynamic live performances, which features additional musicians from various backgrounds, Niyaz presents audiences with a sophisticated blend of superb musicianship and subtle electronica.
Now, Niyaz returns with Nine Heavens, which doesn't just cross cultural and stylistic boundaries, but the centuries as well. Drawing on medieval Persian poetry and 300-year old Persian folk songs, Niyaz has created a 21st century global trance tradition.
Vocalist Azam Ali co-founded the best-selling world music duo Vas in 1996; her unmistakable voice has graced numerous recordings and major film scores. Loga Ramin Torkian is a multi-instrumentalist whose group Axiom of Choice brought the ancient sounds of Persian classical music to Western listeners in the 1990s. And Carmen Rizzo, a multiple Grammy nominee, who is co-producer in Niyaz along with Azam and Loga, and has worked with Coldplay, Seal, Ryuichi Sakamoto, and many others. Now, with Nine Heavens, Niyaz breaks new ground in a two-disc format: the first is an adventurous, spiritual exploration of the ties that bind Persian, Indian, Turkish, and Western dance music. The second disc showcases 8 out of the 9 songs in a purely acoustic setting.
On tour Niyaz consists of vocalist Azam Ali, multi-instrumentalist Loga Ramin Torkian, oud virtuoso Naser Musa, tabla player Salar Nader, double bassist Miles Jay, and Ray Lee on keyboards and programming. Niyaz's live show is a celebration of cultural and spiritual differences, which has not only united these talented musicians, but also their audiences worldwide.
Niyaz at El Rey Theatre
Saturday, February 7, 2009
5515 Wilshire Blvd, Los Angeles, CA 90036
$30-60 / 18+ / Show: 9 PM / (323) 936-6400
For tickets and information visit: www.radiojavan.com/NIYAZ
Buy the CDs of MP3 downloads:
Author:
World Music Central News Department
World music news from the editors at World Music Central