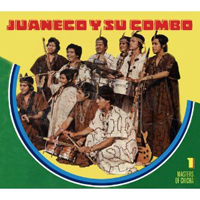 Juaneco y su Combo
Masters of Chicha Vol. 1 (Barbes Records BROO20, 2008)
The 2007 compilation Roots of Chicha brought long-overdue wider recognition to a style born in late '60s Peru that combined galloping grooves with surf-rock guitars, tart Farfisa organ and an attitude steadfastly at odds with the upper classes who called most of the shots in Peruvian culture at the time. Juaneco y su Combo, a featured band on that collection, hailed from the Amazonian town of Pucallpa and had a rural-leaning sensibility that prompted them to adopt the look and spirit of the Shipibo Indians.
The songs on Masters of Chicha, Vol. 1 (including the four that were on the Roots of Chicha disc plus a dozen others) thus have recurring lyrical themes that reflect Shipibo traditions and folklore, though it's the by-now identifiable Chicha beat that'll snare those who don't understand the lyrics.
Borrowing from Brazilian and Venezuelan styles but with a rhythm most closely resembling Colombian cumbia, the choppy, scratchy Latin percussion trots along at a steady pace as dual electric guitars, bass and swelling organ bring the influence of rock and roll into play. The overall effect is like a combination Latin jam, '60s love rally and spy movie soundtrack, never lacking in fun or substance.
This disc prompted me to revisit both the Roots of Chicha album and Sonido Amazonico! by Chicha Libre, a present-day Brooklyn-based Chicha band headed by musician and club owner Olivier Conan, whose Barbes Records label is giving Chicha its current second go-around. Again I was struck by how insanely infectious the music is even as I marveled at the history of Juaneco y su Combo as retold in the liner notes. No longer an obscure or localized genre, Chicha (which is reportedly beginning to earn the respect it never enjoyed in Peru, let alone the rest of the world) gets another boost from this quirky and wonderful CD.
Buy the CD:
Author:
Tom Orr
Tom Orr is a California-based writer whose talent and mental stability are of an equally questionable nature. His hobbies include ignoring trends, striking dramatic poses in front of his ever-tolerant wife and watching helplessly as his kids surpass him in all desirable traits.