Natacha Atlas – Ana Hina (World Village, 2008)
Mamadou Diabate – Douga Mansa (World Village, 2008)
Kaila Flexer & Gari Hegedus – Teslim (Independent release)
Kayhan Kalhor & Brooklyn Rider – Silent City (World Village, 2008)
Monika Mauch & Nigel North – Musical Banquet (ECM New Series, 2008)
Carolin Widmann & Denes Varjon – Schumann: The Violin Sonatas (ECM New Series, 2008)
After a year of producing the global music themed community radio show, Global Heartthrob, I discovered many connections between traditional folk, classical and world music. I even featured a global classical theme periodically which included classical music from Europe, the Americas, Africa and the Silk Road. I did this mainly because I am a strong believer in the preservation of culture and music. And while a lot of music lovers see the connection between preservation of different folk and world music traditions, they don't realize that audiences for European classical music are literally dying off and certainly in order to rescue European classical music from obscurity, cultivation of a younger audience is necessary.
So put aside for the moment this notion of a gasping economy or a recession. It seems that this one of the best times to choose what we truly value. I have never supported a consumerist society especially one that trashes the planet and creates mindlessness. But I do support grassroots movements, community building and the arts. And I have found that a negative attitude towards the arts exist in that some people, especially in government treat the arts as if it is a fringe benefit that is only permitted during a strong economy. The arts are treated like icing on a cake, but the arts are really the cake and not the icing. The arts represent the ultimate in human expression and reveal our connection to nature, each other and the entire planet.
If the people of this world truly desire world peace, then the arts should be a number one priority. The arts in a myriad of forms can play many roles, from societal expression, communication for peace, a tool for diplomacy through fusion projects and cultural exchange and to lift people out of despair and set them on the road to healing. We all know this intuitively or we wouldn't be involved in the arts in the first place. It's now a matter of convincing others who feel that our focus should be on war and violent means. It's now a matter of convincing those with fearful and limiting beliefs that the arts are needed to pave the way to a better and more fulfilling way of living on the planet.
So with all of that in mind, let us begin our exploration of global classical music. And fortunately, the labels have sent me some real gems to share with you. Let's start with Natacha Atlas & the Mazeeka Ensemble who set Atlas luscious vocals against a backdrop of Arabic strings, piano, accordion and exotic instruments. On this recording, east meets west. Most of what Atlas sings hails from the Arabic world, but she brings us material as far-flung as Mexico and the American Appalachians.
Atlas is a world music vocal stylist and similar to some of the most elegant American jazz chanteuse, Atlas possesses a commanding presence. Her vocals on "La Vida Callada" (music set to a dualistic poem by Mexican painter Frida Kahlo), and her vocals on the Appalachian folk classical "Black is the Color" speak volumes about this vocalists' talent. Atlas brings old world charm to every track on this recording that recalls Egyptian divas and Bollywood stars. This is certainly one of the most gorgeous albums I have heard in awhile and I listen to gorgeous music on a daily basis.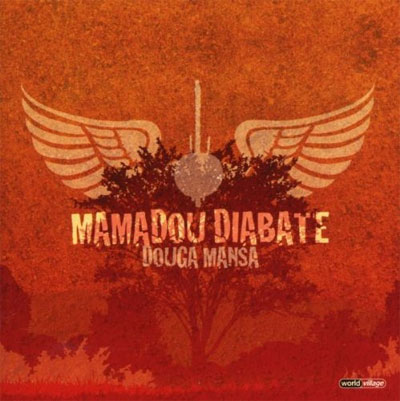 Next, we head to Mali (even though the musician lives in the U.S.), to hear virtuosic solo kora music by Mamadou Diabate. This music which finds its roots in the medieval Manding Empire and its court musicians has certainly grown in popularity over the years. Judging from the number of West African musical recordings released every year this music has obviously touched the hearts of people in Europe, North American and beyond.
Mamadou Diabate exudes wisdom and reverence in his performance and he is a musician that gives meaning to every shimmering note, every nuance that radiate from his kora. The liner notes cite, "Mamadou Diabate's fourth album cements his reputation as one of the most ambitious, creative and gifted living players of the 21-string Mande harp, the kora." Certainly those folks who take world music seriously will wish to add this CD to his or her music library, if not listen to it on a regular basis.
For those folks who enjoy world acoustic instruments in abundance and vibrant musical tapestries, then Kaila Flexer & Gari Hegedus' "Teslim" is certainly worth a listen. This independent release features Jewish Sephardic, Turkish, Greek and Celtic music. Lutenist Hegedus teams up with violinist/violist Flexer to create new interpretation of traditional songs and their own inspired compositions.
The songs on the album set a moody and comfortably melancholic atmosphere.
The music itself conjures so many visual images that it reminds me of an exotic film soundtrack, but more or less a musical landscape. And for those people with a fondness for Vasen and the nyckelharpa, Olav Johansson of Vasen fame appears on "Stone's Throw". This album possesses an exquisite quality and would most likely be enjoyed by veterans of world and classical music. The musical concepts and fusions on the CD might be too dense for someone just getting into "serious" music. But those already familiar with Middle Eastern music, Turkish modes, etc, will feel right at home with this recording.
Equally exotic is the partnership of Iranian spiked fiddle master Kayhan Kalhor and the avant- classical string quartet Brooklyn Rider, "Silent City". Think Dastan Ensemble meets Kronos Quartet and Yo-Yo Ma rolled into one. In fact, the project was inspired, if not conceived by Yo-Yo Ma's Silk Road Project which the renowned cellist convened at Tanglewood Music Center in 2000. Three of four musicians that would later comprise Brooklyn Rider performed one of Kahlor's compositions. This led to an extraordinary musical exploration where western European concepts found a comfortable home with Iranian improvisations.
The Silk Road atmosphere comes through loud and clear on the first track, "Ascending Bird" which sounds like a cross between Mongolian folk music and rousing gypsy music. The second moodier track, "Silent City" despite its exotic modes recalls Terence Blanchard's piece, "Levees" from "A Tale of God's Will" in that both pieces successfully capture the emotions of a devastated city. You can literally feel the world crumbling beneath your feet listening to this track. Not to say that this is a depressing album because the music is too exquisite and passionately rendered for it to ever be called depressing. But again, this recording would be most enjoyed by discriminating palettes.
Next we return to Elizabethan England where lutenist and composer John Dowland's son Robert compiled lute music from Europe and England for the project, "Musical Banquet." German soprano Monika Mauch and English lute player Nigel North combine their talents as they revisit Robert Dowland's compilation. Mauch brings crystal clear vocals to this collection of melancholic lute and voice songs which hail from France, Spain, Italy and England and from renowned and anonymous composers.
Fans of John Dowland might be delighted to hear six of his compositions which include the classic, "In darkness let me dwell". I feel that this recording possesses wide appeal since we have all heard musical ballads and are familiar with singer-songwriters which musicians such as Dowland and even further back, the medieval troubadours act as predecessors. Themes about love and love lost appear in this collection of historic songs. History buffs and fans of Shakespeare will also thoroughly enjoy this collection.
Among European classical aficionados, the musical couple Robert and Clara Schumann is legendary. Robert Schumann composed three violin sonatas, but Clara kept the third one hidden from public scrutiny due to madness that Robert experienced towards the end of his life. German violinist Carolin Widmann and Hungarian pianist Denes Varjon perform that controversial third sonata on their recording, "Robert Schumann The Violin Sonatas" along with sonatas one and two.
My favorite is the second sonata with its cascading piano runs and wild man violin. The sonatas possess some moments of peace and even solitude. But they also possess the drama and fireworks you would expect from Romantic era classical music. Widmann and Varjon hoped to create edginess to their interpretation. I am not that familiar with Schumann, but the music does feel edgy to me. This is ambitious work by two formidable young virtuosos.
And so we end our quick journey into global classical.
Patricia Herlevi hosted and produced the community radio show Global Heartthrob for the past year. She currently hosts the music consciousness blog, The Whole Music Experience where cultural exchange, sound healing and conscious music are explored on a weekly basis.
Buy the CDs:
Author:
PatriciaHerlevi
Patricia Herlevi is a former music journalist turned music researcher. She is especially interested in raising music consciousness. She is looking for an agent and publisher for her book Whole Music (Soul Food for the Mind Body Spirit). She founded and hosts the blog
The Whole Music Experience and has contributed to World Music Central since 2003.