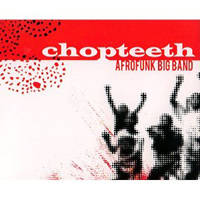 Chopteeth
Chopteeth (Grigri Discs GRIGRI001, 2008)
An "Afrofunk Big Band" is how this Washington D.C.-based collective refer to themselves and that label alone was enough to get me to eagerly spin their full-length debut CD soon after it came my way. Despite a degree of rephrasing with regard to the type of music they play, they're among an increasing number of bands from all over the map channeling the Afrobeat style pioneered by Nigeria's Fela Kuti (even name-dropping Fela at the outset of the very first track, "Struggle").
Any Afrobeat band hoping to make a splash nowadays had better be a tight ensemble with locked-up drums and percussion, a storming horn section, relentlessly riffing guitar, bass and keyboards and vocals that tell it like it is. Chopteeth- who take their name from the lyrics of Fela's "Jehin Jehin" -has all that and more, mixing their Afrobeat intricacies with the grace of South African township jive ("Upendo"), the depth of griot tradition ("Wili Nineh") the confrontation of socially conscious rap ("No Condition is Permanent") and a good deal besides to create a fresh sound that will thrill lovers of classic Afrobeat and open up some new ears as well.
Guitarist/bandleader Michael Shereikis learned some important musical lessons as a Peace Corps worker in Africa, returning to the States to hook up with bassist and labor organizer Robert Fox to form the nucleus of what eventually became Chopteeth. The resulting multiethnic ensemble sharpened their act through live performances and spirited collaborations, including with members of Sierra Leone's Refugee All Stars on this disc. They now sound ready to take on the Afrobeat world, performing culturally, spiritually and politically informed Afrobeat as assuredly as the best of their peers while making room for some other global ingredients and putting a nyash or two in motion in the process.
Buy the CD:
Author:
Tom Orr
Tom Orr is a California-based writer whose talent and mental stability are of an equally questionable nature. His hobbies include ignoring trends, striking dramatic poses in front of his ever-tolerant wife and watching helplessly as his kids surpass him in all desirable traits.