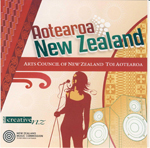 The CD sampler titled Aotearoa New Zealand was presented at WOMEX 2008 in Sevilla (Spain). The sampler features a wide range of musical styles by some of the most creative artists in the New Zelander world music, roots music and independent scene. The artists featured perform Maori Grooves, electronica, R&B, folk, Samoan hip hop, reggae and electronica.
One of the best known acts included is Moana and the Tribe.Moana
Maniapoto of Auckland, New Zealand combines delicate South Pacific ballads
with powerful Maori beats and chants.
Moana
won the 2003 overall Grand Prize of the International Songwriting Competition (ISC) for her song "Moko." Less known, but just as interesting is Tiki, a former member of Salmonella Dub. Tiki belongs to the Ngati Maniapoto tribe. His music
breaks boundaries and blends Maori sounds with global electronica.
Other artists featured include Kora; Little Bushman; Ladi6 (Karoline Tamati); Whirimako Black; drum and bass outfit Shapeshifter; Ruia; singer songwriter Don McGlashan; Samoan hip hop artists King Kapisi and Scribe; the all-Maori reggae band Katchafire; Paddy Free and Richard Nunns who blend of Maori music and electronica; and Maori singer-songwriter Tama Waipara.
The CD was a collaboration of Creative New Zealand, in association with NZMC
(New Zealand Music Commission).
Related links:
Author:
World Music Central News Department
World music news from the editors at World Music Central