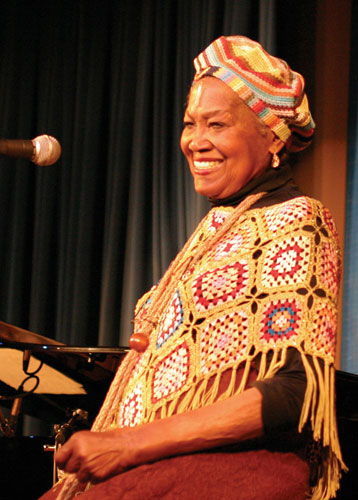 Odetta, one of the most respected in American folk music died Tuesday, December 2, 2008, of heart disease. Odetta was born on New Year's Eve in 1930 as the United States of America entered the second year of the Great Depression, segregation and disfranchisement remained in place, and the droughts of the Dust Bowl forced poor families off the land. As a child in Alabama and then California, she knew difficult times and for a time cleaned houses. But her singing talent was spotted early on and led to formal voice lessons at 14. She joined an ensemble cast headed by Elsa Lancaster at Hollywood's Turnabout Theatre and then, at age 19, became a member of the chorus for West Coast productions of Finian's Rainbow and Guys and Dolls.
There's a video on the American legacy website of her singing "House of the Rising Sun" in 2005. http://www.americanlegacymag.com/thisissue_summer2008.shtml Odetta found her way into the folk music scene in the early 1950s, singing at the famed Hungry i and the Tin Angel in San Francisco and the Blue Angel in New York City, where her appearances caused Pete Seeger and Harry Belafonte to become champions of her remarkable talent. She recorded her first album, appropriately titled Tin Angel in 1954, and subsequently cut many albums including two vastly influential live LPs in the 1960s, Odetta at Carnegie Hall and Odetta at Town Hall, followed by the studio album Odetta Sings Dylan – the first completely dedicated to his songs. The relationship between Odetta and Dylan dates back to 1960 when it is said she advised the young Minnesotan, even before he reached New York City, that if he stayed with music he would most likely succeed. Her most recent CDs are Blues Everywhere I Go (1999), Looking for a Home (2001), and Gonna Let It Shine (2005).
At White House ceremonies in 1999, President Clinton presented her with the National Medal of Arts & Humanities. In addition, Odetta was among the initial group of select artists to be honored with the first Duke Ellington Fellowship Award from Yale University, she's a recipient of both the International Folk Alliance and World Folk Music Association's Lifetime Achievement Awards and a holder of honorary doctorates from Bennett College, Johnson C. Smith University and Colby College.
"I last saw Odetta in June, when the African American history magazine American Legacy had a party to celebrate their music issue, in which Odetta was featured in an article by Audrey Peterson," says musician and journalist Ned Sublette. "The Carolina Chocolate Drops played a fine unamplified mini-set. there was this beautiful, tiny woman in a wheelchair taking it all in, smiling broadly, loving it, radiating joy, thoroughly happy to be alive. Constance wound up sitting next to her. it took me a while to realize it was Odetta, much different than the last time I'd seen her, years before, on stage with a guitar in her hands. she was skin and bones, but she was beautifully dressed and had a glass of wine in her hands. unlike her body, her mind was completely alive. Odetta and Constance chatted and did the terrorist fist-bump. the last thing i heard about Odetta, from a mutual friend, was what this story confirms, that she knew she was dying but was trying to hang on long enough to sing at Barack Obama's inauguration."
Author:
World Music Central News Department
World music news from the editors at World Music Central