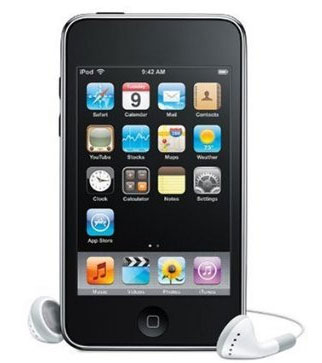 The holidays are soon upon us. With the economy on shaky ground and folks feeling edgy, World Music Central has worked especially hard in finding some good deals for our readers. With many retailers looking to make any kind of sale, World Music Central readers can look forward to some decent discounts this season and some deals on shipping. I have included prices on many of these items, but it's early yet and many retailers are getting nervous. I wouldn't be surprised to find some super-duper sales knocking down many of these prices and free shipping offers springing up all over the place.
Let's get started with music and our contributors' top ten picks.
Our audio equipment picks this year include:
Apple's iPod Touch, available in the 8, 16 and 32 GB capacities priced at $219.48, $289.48 and $379.48. With hours of song, photos and video all at a finger's touch, this iPod's got the goods with a 3.5-inch, multi-touch display screen with a 480 x 320-pixel resolution.
The iPod Nano with a 4 GB capacity that allows you to play hours of music or up to 5 hours of television shows, movies and podcasts comes in at a nice $113.50 price tag for those on a tighter budget.
The real steal is the Apple iPod Shuffle. Priced at $47.37, this little baby's got a 240 song capacity that just right for the price.
Zune Player's got some delightful treats available with the $229.51 Zune 120 GB Video MP3 Player that holds up to 30,000 songs and connects to your home wireless network. Don't forget the Zune Pass subscription service for thousands of songs and CDs. There's also the Zune 8 GB Digital Media Player priced at $136.45 that allows for the storage of 2,000 songs, 25,000 photos or 25 hours of video.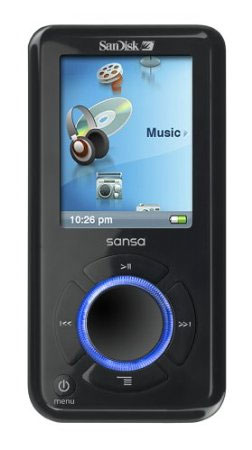 Looking to be a little more cost conscious, there's some equally rated items like the SanDisk Sansa e260 4 GB MP3 Player with MicroSD Expansion Slot. Priced at $66.33, this MP3 player has 4 GB of memory, comes with FM tuner with recording capability and a voice recorder. There's also the SanDisk Sansa Clip 1 GB MP3 Player with a very reasonable price tag of $29.51. With up to 15 hours of play, a rechargeable battery, a FM tuner and USB 2.0 port to transfer files, this one more than reasonably priced. The SanDisk Sansa Clip 4 GB MP3 Player with its 4GB capacity, FM tuner, up to 15 continuous hours of MP3, WMA or Audible file play and rechargeable battery, is priced at a cool $59.99. With varying storage capacities, features and subscription deals, finding the right MP3 for the right price has become relatively easy, but checking out the consumer ratings is always suggested.
Looking for CD players? There are plenty of these out there with some nice prices as well. At $29.99 there's theEmerson PD5098 Portable CD Player with AM/FM Radio that has a front load feature and an LCD indicator. You can step up to the Emerson PD6560BL Portable CD-RW Player with Digital Tuning AM/FM Stereo Receiver for $49.44. This CD player's got a programmable memory system to program favorite tracks or preset radio stations and a stereo cassette recorder plus a remote.
Now if you are looking to upgrade your system, you might want to check out the JVC XL-FZ258BK 5-CD Changer. Priced at $121.20, this one has a 5-disc capacity, optical digital audio output and continuous play and smart random play.
For those of who are still mooning over the stacks of vinyls that have been relegated to the attic, why not join the many who are returning to the good old turntable. Sony has the Sony PSLX250H Turntable. You'll be playing those 33-1/3's and 45's in no time. There's also the very reasonable priced $62.88 Audio Technica AT-PL50 Belt Drive Turntable or the Audio-Technica AT-PL120 Professional Direct-Drive Turntable priced at $190.45. Or maybe you just want to go all out with the Audio Technica AT-LP2DUSP LP-to-Digital Recording System with USB. Priced at $85.04, this baby will let you create MP3, WAV, WMA files while removing the imperfections of the LP with software compatible to both Macs and PCs. This would be a great gift for the music junkie with a collection of LPs stashed in a corner.
In music software there's the Music Ace Deluxe priced at $49.99 that has been designed by music professionals and comes with lessons in theory, rhythm, pitch, note reading and allows the user to compose and listen to his or her own music. There's also Finale Songwriter priced at $42.99 allows the budding songwriter add chords, harmonies and drums and then save the whole thing to MP3 format. Harmonic Vision Music Ac or Music Maker 14 or the Super Duper Music Looper geared toward kids might be options for your gift list.
Now, this wouldn't be any kind of gift guide if I didn't include Guitar Hero III: Legends of Rock Bundle With Guitar (for PC) and versions for PlayStation 2's or Nintendo Wii's Guitar Hero III: Legends of Rock Wireless Bundle. There's also the World Tour and Rock's the 80's versions. If that weren't enough Rock Band has come out with a special edition and expansion kit for you're rock and roll pleasure.
This year I've chosen a number of music releases from the label Music for Little People. There's some great music for kids by some well-known artists that will have your wee ones up and dancing about the house.
To make their musical experience interactive you should check out some of the following musical toy gifts:
Now if you have an adult that acts like a child you might want to get the Desktop Finger Drums Kit. This tiny drum kit is just adorable for the music lover who needs a little fun at the office.
If your budget allows for some higher end items I would head over to Novica.com. They have some spectacular artwork. Musicians for Peace by artist Juan Carlos Ñañake is simply stunning. The West African Strings of Joy by Emmanuel Tetteh Pecku is equally extraordinary. There is also the Balinese artist Nyoman Sedayatana's wood sculpture, Saraswati, Goddess of the Arts. Browse Novica's catalog.
Novica also has some nicely priced instruments that would make lovely gifts, like the $39.95 set of 3 ceramic flutes, Ancient Animals , Song of the Andes quena flute, also for $39.95 or the $59.95 Thai wood gong, Powerful Rhythm. For a real deal there is the set of 5 ceramic Christmas Ocarinas . These Andean Christmas tree ornaments are beautifully decorated and cost a mere $29.66. There are many other instruments from artisans from all over the world and because of Novica's association with National Geographic you know that the money is going to these wonderful instrument makers and artists. Browse Novica's catalog.
Wolfgang's Vault has all music and concert collectibles you could possibly want. T-shirts, photographs, posters and memorabilia are just a click away. You'll find everyone from Steve Riley to Ry Cooder to Ali Farka Toure to Baaba Maal to B.B. King. With live streaming music pulled from the Bill Graham Archives, the King Biscuit Flower Hour and Record Plant, there's concert recordings played here that simply can't be heard anywhere. Browse Wolfgang's Vault catalog.
Our books on music list includes:
For DVDs you might want to check out some of these fabulous music movies:
Amazon.com has some great deals on magazine subscriptions, so you might want give a year's subscription to one of these music magazines to the person who hates everything:
As I always do in these gift guides, I'm going to suggest that you to check out the touring schedules of your local clubs, universities and arts centers for up coming concerts. A pair of concert tickets just might be the perfect gift for those special people in your lives. Giving a gift certificate for some music lessons or maybe some dance lessons also might be an affordable choice and certainly brighten up the cold days of January.
Let me also remind you about those folks who might not be on your list, but who could really use the help. Know that dusting off and donating that old clarinet or guitar in your attic would be a welcomed gift to any school music program. Also, please remember our favorite charities like VH1's Save the Music Foundation, Freemuse.org and the Music Maker Relief Foundation. These organizations are such good causes and you are such good people, I know that you'll try to give what you can to keep the music alive.
As always, World Music Central hopes that this guide has pointed you in the right direction for that perfect gift or reminded you to update your own wish list. We hope that you have a safe and wonderful, music-filled holiday season.
Author:
TJ Nelson
TJ Nelson is a regular CD reviewer and editor at World Music Central. She is also a fiction writer. Check out her latest book, Chasing Athena's Shadow.
Set in Pineboro, North Carolina, Chasing Athena's Shadow follows the adventures of Grace, an adult literacy teacher, as she seeks to solve a long forgotten family mystery. Her charmingly dysfunctional family is of little help in her quest. Along with her best friends, an attractive Mexican teacher and an amiable gay chef, Grace must find the one fading memory that holds the key to why Grace's great-grandmother, Athena, shot her husband on the courthouse steps in 1931.
Traversing the line between the Old South and New South, Grace will have to dig into the past to uncover Athena's true crime.