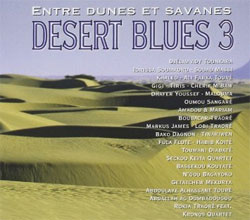 Various Artists
Entre Dunes Et Savanes Desert Blues 3 (Network, 2008)
I have often wondered whether there is a correlation between music and landscape, physical landscape and type of music it induces. War and destruction certainly pass off their influence onto music, but can a particular landscape in the way it is perceived in the human mind result in a particular kind of music? Is the way one travels across the landscape an influence on the music produced? Could the size of an open sky create a particular genre? I'd like to say that I know the answer to this or that there is an enthnomusicological study out there that proves the point, but, sadly, I have no real answer.
I was thinking on these questions as I was listening to the double-CD set Entre Dunes Et Savanes Desert Blues 3. Beyond the basic framework of the blues or the shared tragedies of war, poverty, oppression and deprivation of these musicians, there is a nebulous quality that ties all this glorious music together. Just as one would recognize the twangy, American Southwest sound found on a movie soundtrack of any western, the desert blues has a quality all its own. Maybe it draws inspiration from an endless sky, or the shifting sands carried on by a warm wind or the loping gait of a camel. All I can say for certain is that the sounds that etched out on Entre Dunes et Savanes Desert Blues 3 are simply dazzling.
Desert Blues 3 opens with a sucker punch delivered by Malian guitarist Djélimady Tounkara on "Fanta Bourama" with its superb guitar lines and dreamy vocals. Now the prevailing thought is that the blues emerged out of the Mississippi Delta region of the United States, but spectacular tracks like "M'Ba Den Ou" by Idrissa Soumaoro, "Humaisa" by Abdoulaye Alhassane Touré and "Izarharh Ténéré" by Tinariwen make me wonder if the blues has more ancient roots. Rai master Khaled digs deep into his Berber sound with his outstanding vocals on "Wahrane, Wahrane." E
thiopian singer Gigi offers up the moody blues number ""Bati Bati" and the richly worked "Ethiopia." Rokia Traoré, backed by the Kronos Quartett, casts the listener off into space with her ethereal vocals on "Bownboï." Other favorites include Toumani Diabaté's delicately worked kora playing against Ali Farka Touré on guitar and vocals, the smoky vocals on Markus James's Mississippi Delta number "Dream After Dream" and the soaring vocals of Dhafer Youssef on "A Kind of Love" as he matches the power and beauty of trumpet lines laid down by Markus Stockhausen.
I should also mention the kickass blues vocals by Mauritanian singer Malouma are sure to lay any listener down flat and the wicked licks set down by Ali Farka Touré, with accompanying musicians Mama Sissoko and Bassekou Kouyate on the ngonis and Little George Suref on harmonica, on "Penda Yoro" are alone worth the price of Desert Blues 3.
Bending the blues with koras, ngonis and balaphones, with Tuareg songs, Arab-Andalus rhythms and wholly African blues, Desert Blues 3 breaks the mold of the blues and reshapes the genre into something belonging completely to desert and its peoples – the effect is powerful and sumptuously intoxicating.
Buy the CD:
Author:
TJ Nelson
TJ Nelson is a regular CD reviewer and editor at World Music Central. She is also a fiction writer. Check out her latest book, Chasing Athena's Shadow.
Set in Pineboro, North Carolina, Chasing Athena's Shadow follows the adventures of Grace, an adult literacy teacher, as she seeks to solve a long forgotten family mystery. Her charmingly dysfunctional family is of little help in her quest. Along with her best friends, an attractive Mexican teacher and an amiable gay chef, Grace must find the one fading memory that holds the key to why Grace's great-grandmother, Athena, shot her husband on the courthouse steps in 1931.
Traversing the line between the Old South and New South, Grace will have to dig into the past to uncover Athena's true crime.