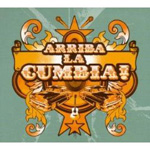 Jill Turner gets ideas for the dancefloor, as DJ Russ Jones, the Hackney globetrotter, changes destination and heads out towards Colombia. As one half of Future World Funk and latterly working with Felix B on the Gypsy Beats and Balkan Bangers, compiler and mixer DJ Russ Jones has a keen ear for a dancefloor hit. Is Cumbia destined to be the next big thing?
Various artists
Arriba la Cumbia (Crammed, 2008)
On his own for this compilation, Arriba La Cumbia, comes with a guarantee, that he has "seriously road tested" all 14 tracks. Mastered by Mandy "Golden Ears" Parnell, who worked on Manu Chao's best seller, this is an album that promises to deliver.
Coupled with its infectious joyous sound and capitalizing on the heavy accent of rhythm and percussion, cumbia makes for an ideal dancefloor genre. Originating on the Atlantic coast of Colombia as a fusion of African, Native Indian and European music. Drums emphasize the offbeat whilst shakers drive the music forward. In some of the bigger cumbia ensembles, trumpets, keyboards and flutes add to the European style of melody.
Once the preserve of Colombia, cumbia crossed the borders and started its migration in the 50's. Changing from its origins in voice and percussion as it absorbed aspects of nearby Cuban Son, Salsa, Mambo and even American Rock & Roll. Its therefore no surprise to find the evolution continuing as the contemporary cumbia tracks on this compilation demonstrate. Cumbia is now making use of club culture, drum machines, claxons, hip hop, ragga, dub, house and even a bit of speed garage.
For the more traditionalist, it stacks up really well against some of the Discos Fuentes compilations of Bailable Canonazos from the 1960's. Keeping the faith of the golden era, there's just a bit more boom chugga cha and reverb, as you would anticipate from a compilation aimed squarely at getting the party started.
The more I listen the more I conclude that this is a clever little comp indeed. Opening with Bristol based Up Bustle and Out and their humorous incorporation of the Raw Hide theme tune into 'Cumbian Mountain' it enables a djay to move seamlessly from a dub fusion set into cumbia. Similarly Mo Horizon's with 'Tu Fiesta Personal' will bridge you out of a Cuban Son session. Its also makes perfect sense to fit in a post acid bouncy track, an exclusive from Basement Jaxx, coming even as it does, before one of my favorites, the vintage sounding track from El Combo Loss Galleros and their version of Mike Laure's 'Tabaco Mascao'. Further in you'll find the dancefloor banger from Fulanito, a group of US born Dominicans, 'Merencumbiaso', a nice fit with some 70's disco, Cuba from the Gibson brothers or Sylvester springs to mind. There's even something for the speed garage heads with Pernett & the Caribbean ravers.
Once a dance with a distinctive shuffle step, coming from the days when African slaves attempted to dance whilst still shackled in leg irons, the restraints are now off. With 'Arriba La Cumbia' the full force of Cumbia is unleashed, encompassing new dimensions, this is definitely one for the party legs, delivering plenty of styles and bpm's to suit everyone. Its what a compilation should be and it deserves to be a valued part of the global djay's toolkit.

Buy the CD:
Author:
Jill Turner
Jill Turner contributes to Songlines Magazine, World Music Central and is on the fRoots critics albums of the year panel. Her radio show GondwanaSound broadcasts on Sheffield Live! 93.2FM to the fourth largest city in the UK and is carried on both Radio Groovalizacion and African Internet Radio.