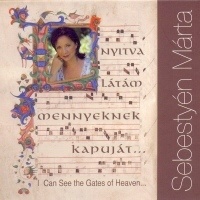 Márta Sebestyén
I Can See the Gates of Heaven…[Nyitva látám mennyeknek kapuját] Hungarian Religious and Secular Songs (Viva La Musica, 2008)
Creating a journey of songs that have traveled up hills and down mountains, traversed open grasslands and floated down rivers, huddled in tiny villages, crept past lonely rooms and wafted out onto misty churchyards, Márta Sebestyén has truly triumphed with her latest I Can See the Gates of Heaven… Hungarian Religious and Secular Songs. Carving out elegantly wrought musical signposts with her shapely vocals, Ms. Sebestyén lays down a path to the rich, ripe folk traditions of Hungary's past. I Can See the Gates of Heaven… is astonishingly good.
With appearances on more than 100 recordings like the movie soundtrack The English Patent, Deep Forest's Boheme, Peter Gabriel's Big Blue Ball and Kismet, Ms. Sebestyén's stellar career also includes performances throughout Europe, China, Japan and the United States, as well as, numerous awards such as the St. Martin Prize, Fellini Award, a Grammy Award and a Golden Giraffe.
Joining Ms. Sebestyén on I Can See the Gates of Heaven… are musicians Mátyás Bolya (dudák, shepherd's flutes, fujara, táorgató, saxophone and overtone singing), a member of the Moldavian music scene and a researcher at the Folk Music Archive of the Hungarian Academy of Sciences' Institute of Musicology and Balázs Szokolay Dongó (koboz, citerák and zithers), a former member of Békés Banda and a bagpipe teacher at the Óbunda Folk Music School. Together, they have turned their talents toward the revitalization of the Hungarian folk tradition.
Stringing pearls of melodies and folk songs into sparkling tracks,I Can See the Gates of Heaven… opens with the eerily ancient sounding "Vision," incorporating the Moldavian 'Csángó' Hungarian tunes "Mountains and Valleys" and "Mary Lullabye." Dipping into a font of overtone singing by Mr. Balázs and achingly lovely vocals by Ms. Sebestyén, "Heritage" pairs the Eastern sounds of a Cheremis song with the delightful lonely sound of a shepherd's song. The quaintly Medieval-sounding "Flower Gatherers" shimmers with flute, tin whistle and koboz.
The vibrant jaunt that is "Sending off Sorrow" includes "If You Too, Laci…," "Goat-Like Dance" and "A Rhythmic Yell" from the Moldavian 'Csángó' tradition. The solemn "Invocation" is crafted out of potently reverent "Oh, Saint Stephen" before blossoming into the Eastern flavored "Don't Let Me Fall…" with a sultry serpentine saxophone and koboz.
The bright ribbon of folk melodies on "Valiant Knights," "Good King Matthias" with its winding troubadour melody and couple dance and finally "Evening Prayer" with the opening Middle Ages melody "Kyrie" and delicate flute and zither work steep I Can See the Gates of Heaven… in crystalline beauty.
Ms. Sebestyén's silvery vocals and expressive delivery surely cast a spell over the listener, invoking rich folk images of Hungary that only sparkle more brightly with the additions of Mr. Balázs on flutes, fujara and saxophone, along with Mr.Dongó on koboz and zithers.
I Can See the Gates of Heaven… is a delightful journey, colored by centuries of Hungarian tradition, preserved and presented by these true Hungarian masters.
Buy the album:
In North America: I Can See the Gates of Heaven.Other recordings available: The Best of Marta Sebestyen: Voice of "The English Patient, The Prisoner's Song, Morning Star, The Lost Jewish Music of Transylvania, High Days: Hungarian Christmas Folk Songs, World Star of World Music, Loverecord, Live at Liszt Academy, Kismet, Dudoltam
In Europe: I Can See the Gates of Heaven. Other recordings available: The English Patient, Kismet, Morning Star, High Days
Author:
TJ Nelson
TJ Nelson is a regular CD reviewer and editor at World Music Central. She is also a fiction writer. Check out her latest book, Chasing Athena's Shadow.
Set in Pineboro, North Carolina, Chasing Athena's Shadow follows the adventures of Grace, an adult literacy teacher, as she seeks to solve a long forgotten family mystery. Her charmingly dysfunctional family is of little help in her quest. Along with her best friends, an attractive Mexican teacher and an amiable gay chef, Grace must find the one fading memory that holds the key to why Grace's great-grandmother, Athena, shot her husband on the courthouse steps in 1931.
Traversing the line between the Old South and New South, Grace will have to dig into the past to uncover Athena's true crime.