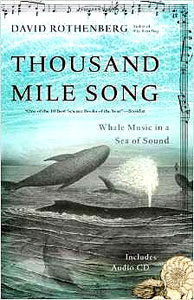 David Rothenberg
Thousand Mile Song: Whale Music in a Sea of Sound
(comes with CD)
Basic Books
I realize that a review for a book focusing on whale songs might seem a bit strange, maybe even out of place on a world music site. However, musician and author (of several books including "Why Birds Sing: A Journey Into the Mystery of Birdsong"), David Rothenberg brings us another dimension. And he brings up the concept that non-human creatures enjoy listening to and making music as much as humans. And for many readers such myself this seems like a manifestation of one of those wild childhood dreams.
Depending on your level of rationality, you could say that I and others who think along these lines are anthropomorphizing or you might just consider that creatures such as birds and whales have been singing since the beginning of time. I won't start philosophizing because I am not that good at it. Instead, I encourage you to read Rothenberg's thoroughly engaging books. He is good at philosophy and putting all the pieces together in a unique puzzle.
"Thousand Mile Song (Whale Music in a Sea of Sound)" offers a fascinating and well-documented glance at a musical interaction between humans and whales. Similar to "Why Birds Sing," Rothenberg engages various researchers on his quest to find out if non-humans sing because they enjoy it. And the author-musician also invites the whales into a musical jam–an exchange between his clarinet and their whale clicks and songs.
The book comes with a CD and the music on it, falls somewhere between experimental jazz and otherworldly sounds. The music also sounds oddly Finnish. The author performs with Orcas off the coast of British Columbia, spends time in New Zealand, the former Soviet Union and other locales exploring whale songs. He also takes us back to the 1970s when listening to whale songs was hip and somewhat trippy. This quest leads to an insightful ending that transforms readers' view of the natural world.
I believe that any musician, no matter the genre, can glean a lot from this book and CD. As we search for more cross cultural exchanges with music, why not consider cross species jam sessions? Perhaps this sounds too far out, or just right down your alley. After all, this is a new era where anything is possible if we just open our hearts.
And what better way to preserve non-human life on this planet, then to honor what we share in common. This planet is home to a myriad of creatures, and many seem to enjoy music as much as humans do. And unlike the whales, you do not need to travel a thousand miles to reap rewards from this unusual musical connection.
Patricia Herlevi hosts the music consciousness blog, The Whole Music Experience. She also feels a strong connection to birds, whales and other creatures.
Buy the book:
Author:
PatriciaHerlevi
Patricia Herlevi is a former music journalist turned music researcher. She is especially interested in raising music consciousness. She is looking for an agent and publisher for her book Whole Music (Soul Food for the Mind Body Spirit). She founded and hosts the blog
The Whole Music Experience and has contributed to World Music Central since 2003.