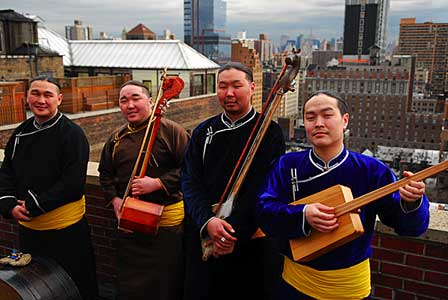 Alash will be on tour in the United States from November 10 through December 21, 2008. Alash weaves new harmonies into the unique vibrations, whistles, and growls of traditional Tuvan throat singing, creating a sound at once ancient and contemporary. Alash is a quartet of master musicians from the Central Asian Republic of Tuva, known for its unique art of throat singing. This technique, also called overtone singing, allows one singer to produce several pitches simultaneously. While the sounds of Tuvan throat singing are intimately connected with the natural world, Alash brings this music into the modern concert hall with subtle influences from western music. Traditional Tuvan songs are presented with accompaniment by handmade instruments. Commentary is provided to bridge the cultural gap for an American audience.
Alash will perform in concert, and they will conduct workshops at colleges, high schools, and grade schools. They will also appear with Béla Fleck and the Flecktones at several venues to promote the new CD Jingle All the Way on which they are featured as guest artists.
At this year's Xöömei (Throat Singing) Symposium in Tuva, Alash members swept the top awards for individual throat singers. Bady-Dorzhu Ondar won the grand prize and was given a car. Ayan-ool Sam took first prize, and Ayan Shirizhik took second. Nachyn Choodu and his wife, Shonchalai Oorzhak-Choodu, won first place for a duet performance. Last year, Bady-Dorzhu Ondar became the youngest person ever to be awarded the title "People's Xöömeizhi" (Throat Singer), the highest honor accorded to a Tuvan throat singer.
Alash's interpreter and manager, American-born Sean Quirk, also has distinguished himself this year. In recognition of his passionate support and promotion of Tuvan music and culture, Quirk was honored at Naadym, a traditional Tuvan festival that features wrestling, horse racing, and archery, as well as music and other arts. He was named "Merited Artist of Tuva" and given a medal by Sholban Kara-ool, head of the Tuvan government.
Buy the CD: Alash.
For a complete tour schedule, visit http://www.alashensemble.com/performances.htm
Author:
World Music Central News Department
World music news from the editors at World Music Central