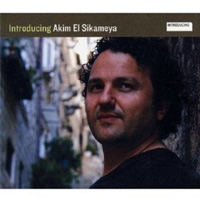 Akim El Sikameya
Introducing Akim el Sikameya (Introducing/World Music Network INTRO113CD, 2008)
Akim El Sikameya might well have achieved stardom without leaving his native Algeria, but thanks to fanatical Islamic fundamentalists deeming his musical pursuits as something he ought to be killed for, El Sikameya made his way to France. He was already equipped for success, studying music from a very young age, becoming an accomplished violinist and leading his first band while still a teenager in Oran, Algeria's musical capital. His skill and diversity are evident on this introductory disc, which bypasses the popular Algerian rai style to embrace a palette of Andalusian, flamenco, gypsy, jazz and Latin sounds laid down primarily on acoustic instruments.
The blend is seamlessly great, thanks in no small part to the fact that the songs were recorded by El Sikameya and his band playing all at the same time rather than on separate tracks combined later. The resulting tightness is topped nicely by El Sikameya's elastically high voice, which at times you'd swear is that of a woman. But no, he's a he, and whether he's addressing the risky topic of religious intolerance or wryly relating tales of love, El Sikameya stands out as a bold and unique new voice from North Africa. World Music Network's Introducing series hasn't steered us wrong yet, and this CD is a fine addition to their growing list of discoveries.
Buy the CD:
Author:
Tom Orr
Tom Orr is a California-based writer whose talent and mental stability are of an equally questionable nature. His hobbies include ignoring trends, striking dramatic poses in front of his ever-tolerant wife and watching helplessly as his kids surpass him in all desirable traits.