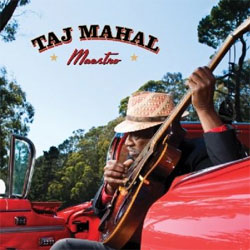 Touring in support of his first domestic release in 5 years, Maestro, Taj Mahal is celebrating his 40th Anniversary. Renowned music club Dimitriou's Jazz Alley will welcome the return of the Taj Mahal Trio for its annual Thanksgiving engagement – 8 nights and 14 shows. The concert is produced by radio station KMTT 103.7 The Mountain and the Pacific Jazz Institute at Dimitriou's Jazz Alley. Band members include Bill Rich (drums) and Kester Smith (bass). Set times on Friday 11/21 and Saturday 11/22 are at 7:30pm and 9:30pm. Set time on Sunday 11/23 is at 7:30pm only. Set time on Tuesday, 11/25 is at 7:30pm only and set times on Weds. 11/26 are at 7:30pm and 9:30pm. Set times on Friday 11/28 through Sunday 11/30 are at 7:30 and 9:30. Please make note that the club will be closed Monday, Nov, 24th and Thanksgiving Day Thursday, November 27th. Parties of 6 or more are required to pre-pay for the show.
Composer and multi-instrumentalist Taj Mahal, a two-time Grammy winner and one of the most influential American blues and roots artists of the past half-century, celebrates four decades of blues, roots, reggae and beyond with his latest release Maestro (Heads Up) which includes guest appearances by Ben Harper, Jack Johnson, Angelique Kidjo, Los Lobos, Ziggy Marley and more. "With this record, as with all my records, I want people to roll back the rug and go for it" says Taj. "This record is just the beginning of another chapter, one that's going to be open to more music and more ideas. Even at the end of forty years, in many ways my music is just getting started."
A self taught musician, Taj plays over 20 instruments including National Steel and Dobro guitars, and his remarkable voice ranges from gruff and gravelly to smooth and sultry. His music remains a well-seasoned gumbo, spiced with influences that originate in the Caribbean, West Africa, the Southern States, and the inner cities of America. The oldest of nine children, Taj Mahal was born in Harlem and grew up in Springfield, Massachusetts in a home filled with music. As an adolescent he explored the roots of American blues and other forms of music. For a short time he had an R&B band called Taj Mahal and the Elektras. He emerged professionally as cofounder of The Rising Sons with guitarist Ry Cooder. This led to a recording contract and Taj rose to prominence.
In addition to his regular work Taj has acted in films and composed motion pictures scores. He wrote the Grammy nominated score for Broadway production of Mule Bone. He has appeared in films such as Outside Ozona. In addition, he also recorded a number of Grammy-nominated children's albums and provided voices for popular cartoon characters.
Buy the CD:
Reservations can be made at www.jazzalley.com for parties of 5 or less or by phoning Jazz Alley at 206-441-9729 or Ticketmaster at 206-628-0888 www.ticketmaster.com
Parties of 6 or more are required to pre-pay. Reservations are suggested.
Author:
World Music Central News Department
World music news from the editors at World Music Central