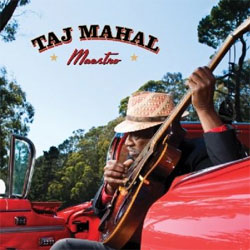 Taj Mahal
Maestro (Heads Up International, 2008)
It's never a question whether I'm going to like a Taj Mahal CD; the question is exactly how many people am I going to annoy by making them listen to it before they even get the chance to say hello. Heads Up International's release of Maestro is no exception. Pooling a first rate roster of co-conspirators including the Phantom Blues Band, Los Lobos, Ziggy Marley, the New Orleans Social Club and Angelique Kidjo, Taj Mahal's <Maestro is yet another triumph of blues, roots and reggae, tinged with enough impudent sass as to be the very personification of coolness. With kick-ass blues, rock solid grooves and a sound that never stales,Maestro is a ruthlessly slick.
Opening with "Scratch My Back," vocalist Mahal and backup band Phantom Blues Band lay down a blues number as provocative as the switch of a good woman's hips. Settling into a groove with flashes of guitar, keyboards, sax and trumpet, this track hooks the listener with vengeance. Following up with the easy sass of reggae, "Never Let You Go," co-written by Mahal and daughter Deva Mahal, this number sears with Los Lobos backing the father-daughter vocals.
Ziggy Marley and his band spices up "Black Man, Brown Man," punctuated by Rudy Costa's ever so fine alto sax lines. Ben Harper joins Mahal's vocals, guitar and harmonica on Mr. Harper's "Dust Me Down" with some back talk backup vocals by C.C. White and Pebbles Phillips that go down as smooth as silk. Angelique Kidjo's vocals and Toumani Diabate on kora give of sparks against Mahal's vocals and guitar work on the African-colored "Zanzibar."
"TV Mama" is savagely swinging with another appearance of Los Lobos, while "Slow Drag" with the Phantom Blues Band and "Strong Man Holler" fairly purr with Mahal's smoky vocals. "I Can Make You Happy" and "Hello Josephine" with the New Orleans Social Club are plied with enough of Ivan Neville's B3 swagger to make a person's knees go weak. Adding the rest of the New Orleans Social Club of George Porter on bass, Leo Nocentelli on guitar, Henry Butler on piano and Raymond Weber on drums against the low growl of Mahal's vocals makes everything just fine. Closing with the Willie Dixon/Bo Diddley classic "Diddy Wah Diddy," Maestro goes down with all the heat of a shot of the good stuff while spreading goodness through the soul.
Now if listening to Maestro doesn't make you get off the couch to grab your woman or your man for a turn around the floor, well, then you just better hang your head and cry, baby.
Buy the CD:
Author:
TJ Nelson
TJ Nelson is a regular CD reviewer and editor at World Music Central. She is also a fiction writer. Check out her latest book, Chasing Athena's Shadow.
Set in Pineboro, North Carolina, Chasing Athena's Shadow follows the adventures of Grace, an adult literacy teacher, as she seeks to solve a long forgotten family mystery. Her charmingly dysfunctional family is of little help in her quest. Along with her best friends, an attractive Mexican teacher and an amiable gay chef, Grace must find the one fading memory that holds the key to why Grace's great-grandmother, Athena, shot her husband on the courthouse steps in 1931.
Traversing the line between the Old South and New South, Grace will have to dig into the past to uncover Athena's true crime.