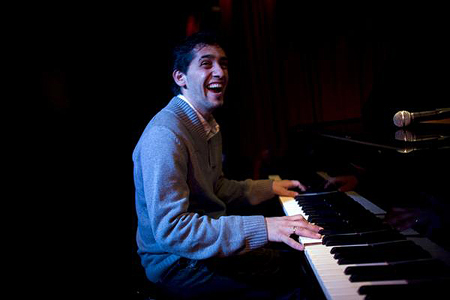 Cadiz-born pianist Sergio Monroy releases his new album titled Chicuco (Bujío, 2008) on November 1st at La Carbonería in Sevilla, the city that is hosting the WOMEX 2008 conference and trade fair. The concert will take place at 22:00 h.
With Chicuco, Sergio Monroy steps further ahead in his musical career, offering a complete work, astonishing in the sound maturity of its brave, daring flamenco style, For the pianist, Chicuco is an homage to his parents and to the memory of a childhood passed among the corner shops of his neighborhood and it pays tribute to everybody who lives far from his hometown, Cadiz. In this new album, Monroy shows the listener a radical change of style with outstanding compositions such as Chicuco, a surprising, cheery and very personal tanguillo, A4, a blended rumba, and Parte de mi, a bulería that might rescue from their homesickness the emigrants who left Cadiz. Monroy has been valued by the critics as the most outstanding figure among the new generation of young flamenco artists. His very personal style follows the paths of the new flamenco, a way of blending different styles with frequent references to jazz.
Monroy´s career began at an early age: at seventeen, the pianist performed his first open air concert at the Mentidero square in Cadiz and his true debut came at twenty when he accompanied the famous flamenco singer Miguel Poveda in the Central Lechera theatre, also in Cadiz, in 2000. Since then he has performed in many renowned theatres in Spain, from the Circulo de Bellas Artes in Madrid to the Mercat de Musica Viva in Vic (Barcelona). He has also played concerts in England, Netherlands, Germany and France.
His first album, titled Monroy, was released in 2003. It already showed his interest in approaching flamenco and jazz and included appearances of celebrated singers such as Javier Ruibal and Miguel Poveda. Chicuco, by Sergio Monroy, sheds a new light on flamenco. In Monroy´s piano there is the ancient wisdom of Cadiz flamenco and a deep respect for the folk songs as they were sung at the popular Mentidero square and where they were caught in the air by this fresh-minded flamenco artist, eager to renew his sound.
Chicuco is how you call in Cadiz the brisk boy from the northern coast who has come to the town to help out in the little corner shops, and Chicuco is how this young artist has called his work, where he lets glide his fingers along the open paths of melodies blended into each other. Its a true homage to his roots, to his father, to a lifestyle and a spirit. There is also a village in Mozambique and a valley in northern Mexico called Chicuco. And he´s wise and humble enough to listen while he´s working and melting together an universe of artistic influences: flamenco, jazz, Spanish folk music, Cuban son and other rhythms.
Related sites:
www.flamencojazzdigital.com/music/chicuco.html
www.bujio.com
www.sergiomonroy.com
Author:
World Music Central News Department
World music news from the editors at World Music Central