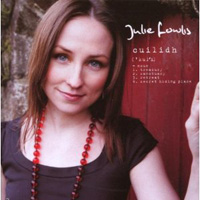 Julie Fowlis
Cuilidh (Shoeshine Record/Cadiz Music, 2008)
Julie Fowlis's Cuilidh out on Shoeshine Records/Cadiz Music is replete with all the sparkle of this Gaelic singer's blue eyes and the shadowy mystery of her North Uist island home. Shifting between quick witted and even quicker tongued tracks featuring the centuries-old tradition of mouth music and languid ballads heaped with enough sorrow to cause stone to weep, Cuilidh is a triumph for this Scottish songstress.
Cuilidh, meaning 'treasury' or 'secret hiding place' in Gaelic, is indeed a precious cache of boldly bright tracks like the cheerful mouth music of "Hùg Air A' Bhonaid Mhòir" and the plumy "Bodaich Odhar Hoghaigearraidh." With a voice that soars to angelic heights, Ms. Fowlis turns tracks like ""Mo Ghruagach Dhonn" inside out with the help of Èamon Doorley on bouzouki, John Doyle on guitar, Ewen Vernal on bass, John McCusker on fiddle, Chris Thile on mandolin and James Mackintosh on percussion.
Gentle tunes like "Ille Dhuinn, 'S Toigh Leam Thu" and "Mo Dhòmhnallan Fhèin" are utterly bewitching in their Gaelic roots set against smart, modern compositions. Instrumental track "Set of Jigs" rockets into skyward with jigs "The Thatcher," "Peter Byrne's" and "The Tripper's." Keeping up a tight, clean, neat sound, this collection of jigs featuring Ms. Fowlis on whistle, Iain MacDonald on flute, Michael McGoldrick on Uilleann pipes, Èamon Doorley on bouzouki/gouzouki and Donnchadh Gough on bodhrán possesses a fresh folk sound that is irresistible. Ending Cuilidh with her own arrangement of the lullaby "Aoidh, Na Dèan Cadal Idir," Ms. Fowlis proves positively captivating with her elegant vocals.
Now, if you're not well-versed in Gaelic there are English translations, as well as the written Gaelic lyrics, of all the lyrics on Cuilidh, and you're in luck as the ballad "An T-Aparan Goirid 'S An T-Aparan Ùr: Oran Do Sheasaidh Bhaile Raghnaill" includes the dishy scandal of about Jessie of Balranald and her elopement with a man other than her finance.
My advice for those brave enough to sing along on the quick-paced mouth music tracks would be to loosen up those lips, because you'd have to be pretty brave to match Ms. Fowlis's extraordinary talent.
Buy the CD:
Author:
TJ Nelson
TJ Nelson is a regular CD reviewer and editor at World Music Central. She is also a fiction writer. Check out her latest book, Chasing Athena's Shadow.
Set in Pineboro, North Carolina, Chasing Athena's Shadow follows the adventures of Grace, an adult literacy teacher, as she seeks to solve a long forgotten family mystery. Her charmingly dysfunctional family is of little help in her quest. Along with her best friends, an attractive Mexican teacher and an amiable gay chef, Grace must find the one fading memory that holds the key to why Grace's great-grandmother, Athena, shot her husband on the courthouse steps in 1931.
Traversing the line between the Old South and New South, Grace will have to dig into the past to uncover Athena's true crime.