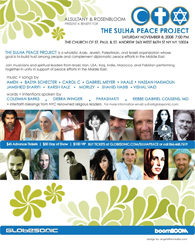 New York City will serve as the backdrop for the first annual Sulha Benefit Concert for Peace on November 8. Sulha is a non-profit organization working to develop a culture of peaceful co-existence and equality amongst Israelis, Arabs, Jews and Muslims. The concert, centered around Sulha's founder Gabriel Meyer Halevy, will celebrate these efforts and bring together a group of ethnically and religiously diverse musicians and speakers from all over the world including acclaimed actress Debra Winger, Sulha Peace Project founder Gabriel Meyer Halevy, Rumi poetry expert Coleman Barks, Oscar-nominated actor and Broadway producer Ronald Guttman, and world-renowned musicians Hassan Hakmoun, Vishal Vaid and Karsh Kale.
Interfaith blessings will be given by spiritual figurehead Gabriel Cousens MD, who launched the acclaimed Tree of Life Center, Rabbi Marcelo Bronstein from the Congregation Bnai Jeshurun, Pastor Sara Pugh of the Church of St. Paul and St. Andrew, esteemed scholar Dr. Abdulaziz Sachedina – the Francis Myers Ball Professor of Religious Studies at the University of Virginia and renowned scholar in Islamic law and theology. The event will be produced by two of New York City's most well-respected figures in the global music scene, Fabian Alsultany and Brice Rosenbloom.
Other musicians who will participate in the day's unique cross-cultural collaborations include a mix of New York and international artists and speakers including Haale (singer), Morley (singer), Amen (Gabriel Meyer and Amir Paiss's band rooted in Israel), Basya Schecter (lead singer of Pharaohs Daughter), Carol C (lead singer of the band Si*Se), Jamshied Sharifi (composer/keyboard player), Shahid Habib (singer), and internationally acclaimed healer Parashakti (presenter).
Founded in 2001 by musician Gabriel Meyer and peace activist Elias Jabbour and using the indigenous process of mediation ("Sulha") as its core teachings, the Sulha Peace Project hosts an annual three-day gathering that integrates listening circles, multi-cultural workshops, sacred interfaith rituals, shared meals, and the arts, from Arab and Jewish traditions. They appeal to a broad cross-section of Israeli and Palestinian society, secular and religious. Hosting an annual three-day gathering The Sulha Peace Project has also been praised by world renown leaders such as the Dalai Lama and Bishop Desmond Tutu for its effective ideas in promoting peace in the Middle East.
Date: Saturday, November 8, 2008
Doors: 6PM
Event: 7PM
Location: The Church of St. Paul & St. Mary
Address: 263 West 86th Street, New York, NY 10024
Tickets: $45 in advance | $50 Day of Show | $100 VIP
Tickets available online, or call: (866) 468.7619
Web sites:
Author:
World Music Central News Department
World music news from the editors at World Music Central