Highlife Time: Nigerian and Ghanaian Sounds from the '60s and Early '70s (Vampisoul VAMPI CD 101, 2008)
Fela Ransome Kuti – 1963-1969 Lagos Baby (Vampisoul VAMPI CD 097, 2008)
Nigeria 70: Lagos Jump – Original Heavyweight Afrobeat, High Life & Afro Funk (Strut Records STRUT035CD, 2008)
As influential as African music has been, keep in mind the degree of influence it's absorbed as well, particularly in its most popular forms. Even as the rapidly developing nations of Nigeria and Ghana were asserting a newfound African identity in the early years after independence, their music still brimmed with ingredients from Europe, the Western Hemisphere and beyond.
Built on a foundation of church music, military brass, sea shanties, traditional rhythms and an acoustic precursor style called palm wine, highlife was the soundtrack to the prosperous post-colonial mood of Ghana and Nigeria. Guitars, horns and percussion were (and are) essential to its big-band sound, and the more innovative highlife artists incorporated Latin, Caribbean, Congolese, jazz, funk and even psychedelic flavors into the mix as the music moved with the times. It was dance music of the highest order, it's rippling, rolling arrangements always leaving room for rhythms that were distinctly African at the core and lyrics (sometimes in English) that ranged from parabolic to simply celebratory.
The period covered on Vampisoul's compilation Highlife Time: Nigerian and Ghanaian Sounds from the '60s and Early '70s is a fairly brief one considering the decades-long history of the genre, but it's arguably when highlife was at its greatest creative peak. Included are many rare and obscure gems along with work by some of highlife's biggest names (Rex Lawson, E.T. Mensah, Chief Stephen Osita Osadebe) and every track brims with raw energy that frequently spins off musical ideas borrowed from elsewhere and incorporated in typically innovative African style. Compiler John Armstrong has done an impressive job on this double CD pack, and in the liner notes hints at more to come. I hope so, since what we have here is easily the best highlife compilation since World Music Network's similarly strong Rough Guide to Highlife in 2003.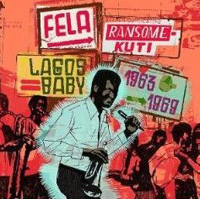 Before he changed his name to Fela Anikulapo-Kuti ("Anikulapo" meaning "he who carries death in his pouch" in Yoruba) and created the Afrobeat style in his own controversial image, Nigeria's Fela Ransome-Kuti was a young trumpeter and vocalist who headed a band called Koola Lobitos.
After several years of studying music at London's Trinity College, he returned to his homeland intent upon injecting the popular highlife style with some of the jazz, soul, rhythm n' blues and Caribbean sounds he'd absorbed in London. His commercial success was spotty- and, quite frankly, so is the recording quality on a few of the tracks on Vampisoul's new collection of his '60s works -but you can't blame the music. Fela called it "highlife jazz" and the name fit the sound. The role of the guitar was more diminished than in mainstream highlife, bringing the horns front and center to ride and punctuate the groove.
Fela was a charismatically focused singer at the time and noticeably better on trumpet than on saxophone (his later instrument of choice), even scaling to some Miles Davis-like heights on a couple of pieces that sport a quintet lineup. As the tracks on the two generously lengthy CDs progress, you can hear the increased influence of soul creeping in along with the relentless rhythmic intensity (thanks in no small part to the phenomenal drumming of Tony Allen, who first hooked up with Fela in 1965) that marked the emerging style eventually dubbed Afrobeat. In 1969 (the cutoff point of this collection) Fela visited America for the first time, getting wise to the Black Power movement and further refining his sound. Soon he would become the radical, in-your-face Afrobeat rebel who achieved worldwide fame. But he made some truly landmark music prior to that, a fact that this set spotlights with long-overdue comprehensiveness. Highly recommended.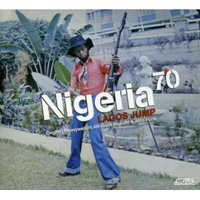 For a broader sampling of what was happening musically in Nigeria three decades ago, check out Strut Records' Nigeria 70: Lagos Jump – Original Heavyweight Afrobeat, High Life & Afro Funk. It's packed with tracks from a time when Nigerian music was not just influenced by homegrown heroes but by the likes of James Brown, Santana, Bob Marley and Sly Stone as well. Wah-wah guitars and psychedelic keyboards are propelled by African percussion, soul sentiments get shouted out in call-and-response style and indigenous rhythms get electrified like nobody's business throughout this CD's 77 minutes, a feast of extended jams and shorter knockouts. The whole thing's a blast, ranging from the delirious ("Ezuku Buzo" by Bola Johnson and his Easy Life Top Beats) to the sublime ("Peter King's "African Dialects," Chief Checker's "Africa Irie"). A fascinating, satisfying slice of Nigeria's rich musical history. (www.strut-records.com) < Buy the CDs: Highlife Time, 1963-1969 Lagos Baby, and Nigeria 70: Lagos Jump
Author:
Tom Orr
Tom Orr is a California-based writer whose talent and mental stability are of an equally questionable nature. His hobbies include ignoring trends, striking dramatic poses in front of his ever-tolerant wife and watching helplessly as his kids surpass him in all desirable traits.