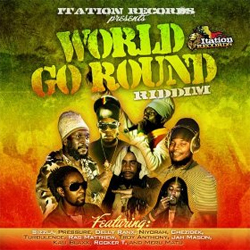 Itation Records has released the cultural riddim set, World Go Round riddim, now available at e-tailers everywhere. On this, its third riddim release, Itation brings together Pressure, Sizzla, Delly Ranx, Turbulence, rising stars Kali Blaxx and Niyorah, and many more.
Featuring the creativity and musicianship of renowned French riddim builders, Tune In Crew, World Go Round is a musically diverse riddim with solid, up to the time roots and kulcha credentials. "It was a worldwide collective effort with French musicians, artists from Jamaica, Bermuda, the Virgin Islands, and United States," says Itation's Dread Lion. "The riddim definitely reflects the fact reggae music makes our world go round."
The exclusive WGR mix will appear on the Riddim Magazine (Germany) covermount CD in the November/December issue (street date – October 16th) and there will also be a select track on Reggae Vibes Magazine (France) covermount CD, also out in November.
Set against Tune In Crew's driving bass line and wicked cultural grooves, Pressure leads the way with an international praise-song to the healing of the nation, "Ganja Makes The World Go Round". "Ah toke me tokin'/ ah smoke me smokin'/ Should ah know ganja mi deh promotin'/ no joke me jokin'/ A choke me chokin'/ A confidential me smokin' until the open". Jah Mason's "My Queen" raises the vibes while Niyorah brings an up-tempo mix of classic VI roots reggae vocals, a Jamaican deejay lyrical flow and hard hitting rhymes he spits with a passion reminiscent of a Brooklyn native on "No Pain No Gain".
Sizzla's "Goodness", "The Way You Live" from Chezidek, and Delly Ranx' "Wish Good" unequivocally confirm roots and kulcha is very much alive and well. And the young star on the rise, Kali Blaxx, energizes the youths with bold messages of hope and resilience on "Free Up Your Mind" while the hypnotic vocal flow of Meru Matu's "Truth Order And Unity" shows the promise of the next generation. Rocker T, Ras Matthew, Danjres, Gideon and Troy Anthony complete the World Go Round riddim set which provides 13 more reasons to love reggae music, its messages, its vibes and its ability to make the World Go Round.
Itation Records emerged on the scene in 2007 with The Higher Meditation riddim and quickly followed up with the widely acclaimed Show Love riddim in early 2008.
Author:
World Music Central News Department
World music news from the editors at World Music Central