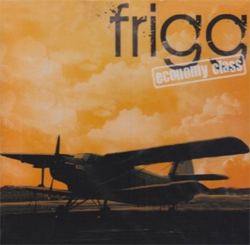 Frigg
Economy Class (NorthSide Records, 2008)
With colder weather and darker days approaching in this region, the hibernation instinct has arrived. Now seems like the perfect time to gaze north and to listen to Nordic music. The Finnish-Norwegian fiddling sensation, Frigg's third studio recording, Economy Class provides rousing original compositions and one traditional Norwegian piece, "Lars Lenkelifot" (with its Northern Lights type choral arrangement).
These youngsters hail from a de facto fiddling dynasty–the small Finnish village of Jarvela, where anyone with the surname of Jarvela must have been born with a fiddle in his hand–so it seems when listening to this collection of songs. The press notes even call this collective of musicians a "power-string band". The playing is immaculate and the compositions intrigue with their twists and turns, not uncommon with Nordic fiddling music–think Vasen, think JPP.
Frigg proves equally adept with slow moody ballads such as "When the Time Comes I'll Be Ready" to the pan-European and American bluegrass that finds its home on Economy Class. Many people might jump on board this cozy economy flight and enjoy the entertainment and adventure it provides.
Patricia Herlevi hosts and produces the community radio show, Global Heartthrob and The Whole Music Experience blog.
Buy the CD:
Author:
PatriciaHerlevi
Patricia Herlevi is a former music journalist turned music researcher. She is especially interested in raising music consciousness. She is looking for an agent and publisher for her book Whole Music (Soul Food for the Mind Body Spirit). She founded and hosts the blog
The Whole Music Experience and has contributed to World Music Central since 2003.