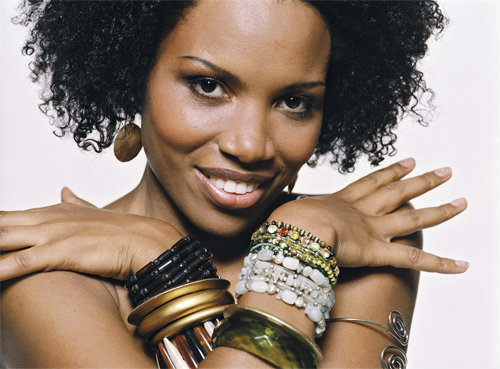 Lura, the new sensational Portuguese Singer of Cape Verdean origin performs on Thursday, October 16th at 8:00 pm at the Wisconsin Union Theater.
Born in Portugal to Cape Verdean parents, Lura sings of the string of ten volcanic islands scattered in the ocean off the coast of Senegal. Her father hails from Santiago, the largest, greenest, most African island of Cape Verde, and her mother from São Nicolau, the island that produces the best grog (Cape Verdean rum). Lura's music is of and from this former Portuguese territory, a fresh take on the musical styles made famous by Evora—and encompassing additional genres. "She has opened the way," says Lura of Evora. "Now we can present other Cape Verdean styles."
The first European colonial town in Africa was founded in Cape Verde in 1462. Thus, the music of Cape Verde reflects both Portuguese and West African roots. Lura is of the generation of musicians who are rediscovering the early traditions of their homeland. Her music is inspired by the styles of the island of Santiago and includes genres previously prohibited by the Church and the colonial government. The accordion-driven funana, which Lura performs, was considered to be too erotic.
This performance is sponsored by the Wisconsin Union Theater Committee and supported in part by a grant from the Wisconsin Arts Board with funds from the State of Wisconsin. Media sponsors include WORT, The Onion and WPR's Higher Ground.
Buy Lura's CDs:
Tickets are $32, $26, and $18 for the general public, $30 and $24 for Union members, UW-Madison faculty & staff, WAA members and non-UW-Madison students, and only $10 for UW-Madison students. Buy tickets on the phone at 608-262-2201, by fax at 608-265-5084, by person at 800 Langdon St., Madison, WI 53706, or https://www.choicesecure01.net/mainapp/EventSchedule.aspx?ClientID=UnivMadWisconsin".
Author:
World Music Central News Department
World music news from the editors at World Music Central