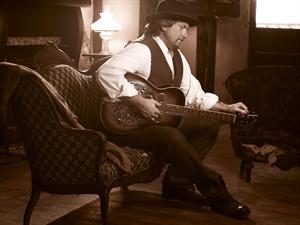 Dobro wizard and GRAMMY award winner Jerry Douglas makes his Blue Note debut from October 9 – 12. Just last month, Douglas released Glide. He's also taken the dobro and the slide guitar beyond the typical bluegrass/country context, playing with musicians like James Taylor, Paul Simon, Ray Charles, Lyle Lovett, Elvis Costello, Garth Brooks, Charlie Haden, Earl Scruggs, Phish, Emmylou Harris, Bill Frisell and The Chieftains all over the world.

Internationally recognized as the world's most renowned Dobro player, Jerry Douglas undoubtedly ranks amongst the top contemporary maestros in American music. Douglas has garnered twelve GRAMMY Awards and numerous International Bluegrass Music Association awards, and holds the distinction of being named "Musician of the Year" by The Country Music Association (2002, 2005, 2007), The Academy of Country Music (11 times), and The Americana Music Association (2002, 2003). In 2004, the National Endowment for The Arts honored Douglas with a National Heritage Fellowship, acknowledging his artistic excellence and contribution to the nation's traditional arts, their highest such accolade.
Douglas's musical brilliance has graced over 2,000 recordings by such distinguished artists as James Taylor, Paul Simon, Ray Charles, Lyle Lovett, Elvis Costello, Garth Brooks, Charlie Haden, Earl Scruggs, Phish, Emmylou Harris, Bill Frisell, The Chieftains, and the eight million-plus selling soundtrack to O Brother, Where Art Thou?. Since 1998, Douglas has been an inimitable member of Alison Krauss & Union Station, and over his career has been a featured player in such groundbreaking bands including The Country Gentlemen, J.D. Crowe & The New South, Boone Creek, and Strength in Numbers (of which both Sam Bush and Edgar Meyer were also members). While music aficionados have come to know the sound of Jerry Douglas from his stunning contributions to countless albums and concerts with other acclaimed artists, it is with his singular solo recording projects where he unabashedly unveils the elegance of his own songwriting and artistic virtuosity.
Douglas's latest recording, Glide, marks his twelfth solo release. Featuring nine instrumental compositions and two tracks with standout vocal performances by country music legends Travis Tritt and Rodney Crowell, it is a follow-up to his critically acclaimed, The Best Kept Secret (KOCH Records), and the 2007 collection, Jerry Douglas: Americana Master Series: Best of the Sugar Hill Years (Sugar Hill Records). Glide portrays his adventurous and eclectic musical palette as it incorporates elements of bluegrass, country, rock, folk, Celtic, Scottish and New Orleans-inspired music. Earl Scruggs, Sam Bush, Edgar Meyer, Lloyd Green, Tony Rice, Carmella Ramsey and members of his touring band including drummer Doug Belote, bassist Todd Parks, violinist Luke Bulla and guitarist Guthrie Trapp support Douglas on various tracks on his much-anticipated new album.
In addition to his trademark Dobro work, Douglas also contributes his transcendent lap steel guitar playing on "Route Irish." Another Douglas original, the song is in response to his witnessing several back-to-back days of news coverage of the Iraqi war. A friend recommended the title after returning home from Iraq; it's the actual name of the road connecting the Baghdad Airport to the Green Zone. "Sway" is Douglas's interpretation of a funeral march; a tribute to New Orleans, recorded in New Orleans. With the assistance of a handful of select horn players, he eagerly sought out to capture a distinctly Louisiana feel that was part Dixieland and part Salvation Army Band. "Unfolding" is an Edgar Meyer composition they performed while in Strength In Numbers. Douglas arranged a compelling string section for the piece with Luke Bulla playing all the parts. Written by Rodney Crowell, "A Long Hard Road" features a warm and memorable vocal performance by Crowell with Carmella Ramsey and Douglas singing backgrounds, and Tony Rice on guitar.
Every time Douglas hears Earl Scruggs play "Home Sweet Home," he confesses, "I'm six years old again." He adds, "Scruggs recorded this track on Foggy Mountain Banjo around 1964, and any card-carrying bluegrass fan owns a copy or can't come in the club." The new rendition highlights a trio with Scruggs, Rice and Douglas. With his instrumental interpretation on the singing style of the Louvin Brothers, Douglas camps it up in "Two Small Cars In Rome" with duet partner Lloyd Green, the world's preeminent pedal steel player. This slide by slide tune also recollects the narrow streets in Italianate films by Academy Award-winning Italian actress Sophia Loren. "Trouble On Alum (Hector the Hero/Wooed and Marret)" is a medley of two ancient Scottish songs that Douglas braced together for a commissioned piece he did as an accompaniment to paintings by American watercolor artist William Matthews. He plays all the instruments on "Trouble On Alum." The album's closer, "Pushed Too Far" is a staple in his live repertoire and a co-write with Russ Barenberg. Originally recorded for the MCA Master Series, which unfortunately went out of print, Douglas offers a newly recorded version and half-jokingly notes that it has "too many notes for beginners."
Whether he's performing alongside Eric Clapton at the 2007 Crossroads Guitar Festival in Chicago, on tour with his band opening for Paul Simon (Fall 2006), appearing live on A Prairie Home Companion, or playing his featured role with Alison Krauss & Union Station, there is only one Dobro player who can voice such a distinctive and familiar sound: Jerry Douglas. As he continues his incalculable influence on bluegrass and its many related genres, Douglas forges as a true pioneer in American music.
Thursday, October 9 – Sunday, October 12, 2008; Sets @ 8pm & 10:30pm
Jerry Douglas (dobro), Luke Bulla (violin), Chad Melton (drums), Todd Parks (bass), Guthrie Trapp (guitar)
$30 @ table / $20 @ bar
The Blue Note; 131 W 3rd. St, New York, NY 10012
Doors open at 6pm. Set times are 8pm and 10:30pm nightly.
Buy his latest CD:
Author:
World Music Central News Department
World music news from the editors at World Music Central