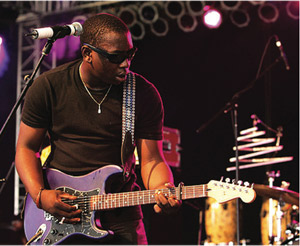 Toronto, Canada – The Small World Music Festival closes Tuesday September 30 with the show-stopping performance by guitar wizard and son of the famed Ali Farka Toure, Vieux Farka Touré. DJ Medicineman spins his techno-groove magic as part of the festival finale at the Mod Club.
Since his childhood, Vieux Farka Touré has been deeply inspired by the music of his legendary two-time Grammy Award-winning father, Ali Farka Toure. Growing up in Mali's capital, Bamako, and his father's hometown of Niafunké in the Sahara — both teeming with rich musical life — Vieux developed remarkable talents as a drummer and calabash player. After defying his father's wishes that he not pursue a life of hardship as a musician, Vieux enrolled in the National Arts Institute in Bamako, where he truly discovered his musical calling, taking up guitar and composing his own music.
By the time he left the institute, he was already a virtuoso on guitar and able to emulate his father's playing. He was soon taken under the wing of the world's premier kora player, Toumani Diabate. It was Diabate who had a hand in Ali's acceptance of his son's chosen career. Vieux toured France and South Africa and began to accompany his father on occasion. His own compositions were gaining ground as they added a whole new influence to the traditional desert blues from northern Mali.
In 2005, Vieux reconnected with his friend, North American musician and producer Eric Herman, with whom Vieux had played while he was a student at the Arts Institute. Herman persuaded Vieux to record and began work on an album under his label Modiba Productions. Toumani guests on the album as well as Ali. The unfortunate reality that Ali was growing very ill with cancer made it all the more significant that Vieux recorded the album, and Ali in fact performed his final recordings as the ultimate expression of approval of his son's path. The resulting jaw-dropping debut album was finished at Studio Bogolan and marked Ali's official passing of the torch to Vieux, with which to light his way.
Mod Club, 722 College Street, 416-588-4663
Tuesday September 30 @ 9 pm
Tickets: $25 advance, $30 door; at smallworldmusic.com & Soundscapes, 572 College St.
Buy the CD:
Author:
World Music Central News Department
World music news from the editors at World Music Central