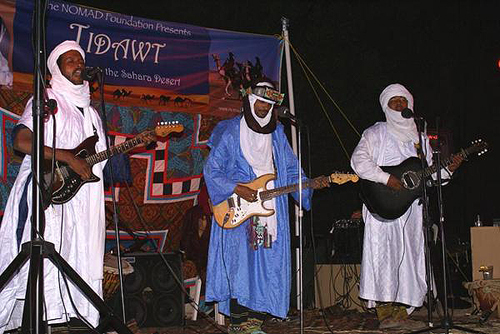 Tuareg band Tidawt will perform on Monday, September 22 at the Highline Ballroom in New York. Doors open at 7pm. Tidawt, meaning together, was started by Hasso Akotey in Niger in 1994. They played for the opening of "The Art of Being Tuareg", the first major US museum exhibit on the Tuareg which opened at the Fowler museum UCLA in 2006 and at Stanford in May 2007. They were also featured in the 2003 Festival in the Desert film and soundtrack.
In 2006 they were invited to be a part of the project "Stones World" and recorded with the Rolling Stones at Capitol Records in Los Angeles. In 2007 they played with Mickey Hart at Slim's in San Francisco. Their first CD was released in 2008.
The traditional costumes of a Tidawt performance are visually stunning. The iridescent Indigo turbans turn their skin blue. Because of this, the Tuareg are known as the Blue men of the desert. The group is devoted to the guitar, their music and the preservation of their culture.
This is evidenced by the tours Tidawt has done to raise consciousness and funds for their people through the projects of the Nomad Foundation. Together, they are committed to the survival of the rich Tuareg culture.
There will also be a film screening of "Amanei, Touareg entre dunes et montagnes at 8PM. General Admission Seated Show. All Ages First come, first seated. $10 min per person at tables. Full dinner menu available.
The Highline Ballroom is located at:
431 W 16th St
New York, NY 10011
between 9th and 10th Ave
(212) 414-5994
More information at:
Author:
World Music Central News Department
World music news from the editors at World Music Central