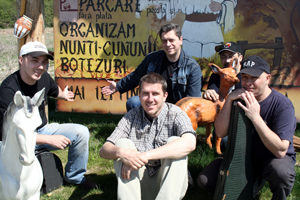 New York (NY), USA – The Romanian Cultural Institute in New York (RCINY) will present the New York City debut of Nightlosers, a Transylvanian band that stretches the limits of American blues, R&B, Romanian folk and traditional Gypsy music, at the Knitting Factory on Sunday, October 19, 7:30 pm. This is part of a series of concerts in North America co-organized by RCINY, including tours to Montreal (Oct 14) and Toronto (Oct 17).
Nightlosers is a Romanian blues-ethno-rock band renowned for their ability to find common roots between American blues, Irish country-rock and genuine Eastern European folk. Their sound is chameleonic – a measured blend of passion and irony – mastering sound devices from overdriven guitar to poplar leaf – with a good dose of Transylvanian temper.
Film director & musician Hanno Höfer created Nightlosers in the Transylvanian city of Cluj in 1994. Coincidentally, the band members, all Romanian born, have different ethnic roots – German, Hungarian, Gypsy.
The Nightlosers are known for their unusual tricks performed on violin and guitar. Their gigs often include a mix of Romanian gymnastics on other sound devices such as poplar leafs and ceramic waterbirds mixed with plum brandy to inspire what they call the "Groove Distillery." They can play their instruments behind their backs, around their necks or suspended in mid-air as if it were the most natural thing to do.
"You can always find an appropriate leaf around you," says Nucu Pandrea, a frequent guest star of Nightlosers, and one of a very few musicians still using such traditional Romanian instruments as leaf or waterbird. "A natural leaf loses its elasticity after 4-5 minutes of playing. Then it dies. You can always go out of tune on a leaf. It takes less than a second to go from the sublime to the ridiculous. That's the trouble with leaves. Many times, the public doesn't realize where the sound comes from. And even when they are told in advance, they still can't believe it," says Pandrea.
The Nightlosers irreverently claim that songs like Blue Suede Shoes, Shame, or Sophisticated Mamma are traditional Romanian folk songs that have been "stolen" and made famous by American musicians. Therefore, Nightlosers' mission (besides finishing that plum brandy) is to play the original version and to put things straight in the history of music. They will tell you that unfortunately the "theft" had such a huge impact worldwide that, to win the songs back, their mission requires them to sing in English as well.
Members
Hanno Höfer – vocals, guitar, harmonica, washboard, etc.
"El" Lako Jimi – violin, trumpet-violin, guitar
Tavi "Barila" Andreescu – bass
Geza Grunzo – keyboards
Ovidiu Condrea – drums
Nucu Pandrea – leaf, waterbird
For more information, sound samples, videos, and a documentary about Nightlosers, visit:
Author:
World Music Central News Department
World music news from the editors at World Music Central