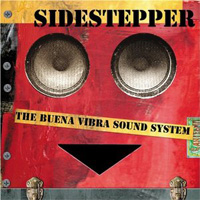 Sidestepper – The Buena Vibra Sound System (Palm Pictures PALMCD2138, 2008)
Spam Allstars – Introducing Spam Allstars (World Music Network INTRO110CD, 2008)
I count myself a Latin music purist, but I'm open to contemporary treatments of Latin music as long as they don't get so wrapped up in technology that there's no Latin heart at the center. These two releases pass the test, not only by respecting the older sounds being updated but also keeping things fun and dancefloor-minded.
Sidestepper is a Colombian collective headed by British musician and DJ Richard Blair, who traveled to Colombia after being entranced by the sounds of Afro-Colombian singing great Toto La Momposina. He wound up sticking around, working with local bands and eventually forming Sidestepper using musicians from both rural and urban regions of the country.
The Sidestepper sound is one of constructed beats embedded with real instruments, dubwise programming, Latin/Caribbean/African rhythms and vocals that range from traditional chants to hip hop rants. I haven't heard the group's previous releases, but this one's a coolly seamless, no-silence-between-tracks album that's just as likely to dip into a Latin jazz-fueled passage as an infectious funk riff. Standout songs include the percolating "San Juan" and "La Paloma," which closes the disc with choppy, horn-soaked soul. The stated intention of this album is to capture the free flowing vibe of Sidestepper's live shows. Perhaps it does, but all I know for sure is that it's a great blend of sounds, navigating subtle twists that bridge old and new while keeping the party going.< After only a few moments listening to the Spam Allstars, any possible negative connotations regarding canned meat or unwanted e-mail cease to be. Pegged as Miami's hardest-working Latin band, they seek to represent that city's diversity by mixing their Latin-based leanings with funk, hip hop, dub and electronica. Their approach is more organic and less of a patchwork than Sidestepper, emulating in modern terms the Latin jazz descargas (jam sessions) of decades past. [caption id="attachment_23434" align="alignright" width="200"]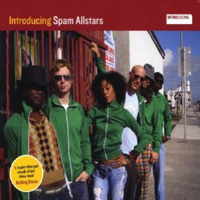 Spam Allstars – Introducing Spam Allstars[/caption]The lengthy tracks are mainly mid-tempo instrumentals blending live percussion, guitar, sax, flute and trombone with slippery electro beats, at times adding some particularly good sampler and turntable manipulation. The occasional vocals are Afro-Cuban rooted, bolstering a feel that is as much classic Latin as modern club music (and in its best moments, even more so).
Despite the Introducing tag, this band has been in existence for 15 years under the direction of turntable, sampler, guitar and bass expert DJ Le Spam (Andrew Yeomanson). Among their ranks are musicians who've played alongside Sly and the Family Stone, Shakira, Albita, Irakere and Herbie Han*censormode*, so their chops are assured and well attuned to the nuances of grafting Latin melodies onto modern-made beats. Highly recommended, not just for crabby old purists like me but Latin lovers across the board.
Buy the CDs:
Author:
Tom Orr
Tom Orr is a California-based writer whose talent and mental stability are of an equally questionable nature. His hobbies include ignoring trends, striking dramatic poses in front of his ever-tolerant wife and watching helplessly as his kids surpass him in all desirable traits.