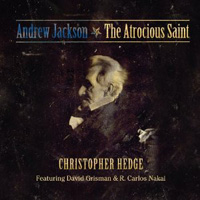 Christopher Hedge featuring David Grisman & R. Carlos Nakai
Andrew Jackson – The Atrocious Saint (That's That Productions TTCD 12272, 2008)
The fairly strange title of this CD is based on an 1859 quote by James Parton, a biographer who used the phrase to describe seventh U.S. president Andrew Jackson. Jackson's hardscrabble early life shaped him into the tough guy he would become, both as a military commander and later the first man of humble origins to land America's top job. As recounted in a recent PBS documentary titled Andrew Jackson: Good, Evil and the Presidency, Jackson's time in office was marked by his desire to take on the established Washington aristocracy (as founder of the Democratic Party) and fight the rise of corporate interests. Admirable goals, particularly given the state of politics today. Yet Jackson's administration had its downsides, most glaringly his indifference toward and cruel treatment of Native Americans.
The Atrocious Saint is composer/multi-instrumentalist Christopher Hedge's soundtrack to the PBS film. It's an ambitious, fascinating and evocative work, full of Scottish/Irish sounds that form the foundation of bluegrass, moody interludes with the feel of chamber music, Native American and (more subtly) African strains, renderings of traditional tunes from Jackson's time and ominous military cadences.
Mandolin master David Grisman and Native American flute wizard R. Carlos Nakai get top billing among the supporting players, but everyone involved deserves points for how sturdily this all conjures up the early 19th century. The various sounds suggest not only time and place, but also a culture taking shape under a government that meant prosperity for some and suffering for others. You don't have to be a history geek to enjoy this fine music. Just tune in and let it carry you back.
Buy the CD:
Author:
Tom Orr
Tom Orr is a California-based writer whose talent and mental stability are of an equally questionable nature. His hobbies include ignoring trends, striking dramatic poses in front of his ever-tolerant wife and watching helplessly as his kids surpass him in all desirable traits.