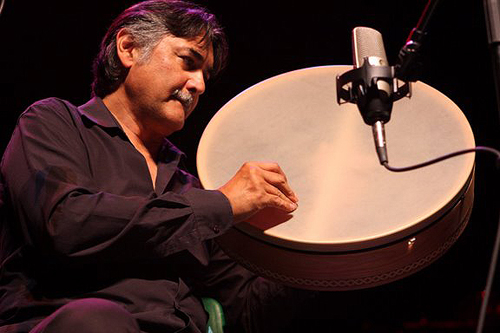 For the thirteenth year now, the serene countryside of Vermont roared to life with the thunderous sounds of drums and percussion in the little village of Castleton. KoSA International Percussion Workshops and Festival held its annual drum camp this past July 30th to August 3rd at Castleton State College. Established by Montreal percussionist Aldo Mazza, KoSA's theme this year encouraged all who attended this unique event to "change their world" by furthering their knowledge in what KoSA promises to be a magical "fix" of drums and [wiki:percussion].
This year's participants, coming from as far this year as [wiki:Turkey] and ranging in age from 8 to 74, experienced a thrilling week of intense, hands-on percussion training with some of the finest artists in the world. Only at KoSA can you take intimate small group lessons in Taiko, amazing instruction with a world-renowned hand drum master on the same day as a fusion lesson with a legendary artist such as Chester Thompson followed by a [wiki:rock] lesson with Jonathan Mover.
Other celebrated artists this year at KoSA included: Memo Acevedo (Tito Puente), Cyro Baptista (Paul Simon), Ignacio Berroa (Dizzy Gillespie), Mario DeCiutiis (KAT Electronic percussion), Kenwood Dennard (Sting), Marc Dicciani (University of the Arts/Philadelphia), Dom Famularo (world drumset ambassador), Gordon Gottlieb (Steely Dan/Julliard), Arnie Lang (New York Philharmonic), Russ Lawton (Trey Anastasio) Marco Lienhard (Japanese Taiko master), Aldo Mazza (Répercussion), Allan Molnar (Nelly Furtado), Mario Monaco (Al di Meola), Jonathan Mover (Shakira), Emil Richards (Los Angeles studio legend), Jim Royle (steel drum ensemble), Bobby Sanabria (Arturo Sandoval), Rajna Swaminathan (South Indian artist), Chester Thompson (Phil Collins and Genesis), Glen Velez (Four-time Grammy Award master frame drummer), Michael Wimberly (West African Drumming) with Mamadou Dahoué (West African Dance) and Nancy Zeltsman (Berklee College).
The nightly performances also featured the KoSA rhythm section: Oscar Stagnaro on bass (Paquito D'Rivera), Rafael Alcala on piano (Manhatttan Transfer).
At this world-class event, participants and faculty live and eat together while exchanging ideas about drumming virtually all day and
night. Besides the hands-on daily classes conducted by their idols, attendees get the opportunity to play with the rhythm section in
residence, participate in masterclasses, and perform in nightly jam sessions and a formal recital. Every evening participants were treated to exciting concerts in the KoSA Festival which are open to the public. An estimated 1000 drum and percussion enthusiasts The event culminates with a grand finale faculty concert which is recorded live.
KoSA was generously sponsored this year by: Asano Taiko, Beatnik, Bosphorus, Cooperman, Canadian Musician, D'Addario Foundation, Drum Magazine, Drumhead Magazine, Drummers Collective, Evans, Gibraltar, Hansenfutz, Hudson Music, KAT, Lang
Percussion, LP,Ludwig/Musser, Mapex, Mike Balter Mallets, Meinl, Modern Drummer Magazine, PAS,Paiste, Premier, ProMark, RegalTip,Remo, Sabian, Shure, Stagg, Tama, Taye, Toca, WB, XL, Yamaha, and Zildjian.
For more information on KoSA or to purchase KoSA CDs and/or the newly released KoSA DVD, visit www.kosamusic.com.
Author:
World Music Central News Department
World music news from the editors at World Music Central