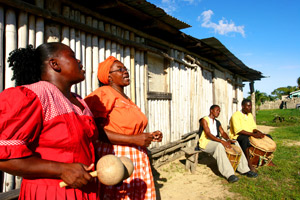 WorldBeat Cultural Center in San Diego (California) pays homage to Andy Palacio's activist legacy with performances by Umalali (Garifuna for voice) which adds four powerful women's voices to the potent 8-member Garifuna Collective. This multi-generational (from ages 25 to 80) ensemble's compelling polyrhythms, memorable melodies and soaring voices reflects both West African and Caribbean heritages. It defines and maintains the threatened music of the Garifuna community – from Belize, Honduras and Guatemala – by treasuring and respecting their traditions, but within a modern context.
Descendants of shipwrecked African slaves who intermarried with the Carib and Arawak Indians of the Caribbean, the Garifuna people live primarily in small towns and villages on the Caribbean coast of Belize, Guatemala, Honduras and Nicaragua.
Umalali: The Garifuna Women's Project expands on the story of this fascinating community, which is struggling to retain its language, music and traditions in the face of globalization. the group blends the rich vocal textures of Garifuna women with echoes of rock, blues, funk, African, Latin and Caribbean music.
Wednesday, Aug 27th @ 8:00pm
$12 adv.
WorldBeat Center
2100 Park Blvd. San Diego, CA 92101
Buy the CD:
Author:
World Music Central News Department
World music news from the editors at World Music Central