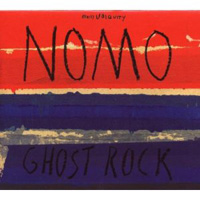 NOMO – Ghost Rock (Ubiquity Recordings URCD230, 2008)
The Lions – Jungle Struttin' (Ubiquity Recordings URCD222, 2008)
Headquartered just down the road from me in Southern California, the Ubiquity label can always be counted on to put out music that expands the mind and moves the feet, be it soul, rare groove, funk, jazz, electronica, hip hop, breakbeats, fusion or something uncategorizable. Two of their recent releases give a cutting-edge jolt to familiar genres -Afrobeat and reggae- with characteristically fine results.
Not that NOMO, a Michigan-based outfit, is a traditional Afrobeat band in the Fela Kuti sense. There's more than a suggestion of Afrobeat in their churning percussion and blazing horns, but many of the tracks on Ghost Rock are overlaid with futuristic sounds that often comprise the better part of the melody without dampening the more earthy kick of unfailingly tight and swinging beats.
Despite their use of synthesizers, electronically treated instruments and even the sound of a brainwave monitor on the opening track, they know when a human touch is needed. So when they put jazzy solos, rockish guitar or far-off strains of mbira or gamelan atop the underlying funk, they do it with an expertise that compliments the flair of the more eccentric sounds and narrows the gap between experimental and traditional music. And with guest players like Hamid Drake and Adam Rudolph (formerly of the groundbreaking Mandingo Griot Society), they're in good company. If this is where Afrobeat is headed, we should all be along for the ride.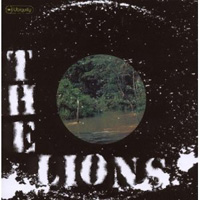 The Lions, a collective of Los Angeles players led by former Antibalas trumpeter Todd Simon, could likewise easily be described as a band specializing in instrumental reggae. Jamaican riddims are what mainly fuels Jungle Struttin,' though by the time the title track rolls out a smooth funk attack, it's clear there's other forces at work. That said, you couldn't ask for better than the Lions' rough, tough brand of reggae- it's full of dub inflections, smoky horns, choppy guitars, quirky accents from keyboards and percussion and the sort of drums and bass team that would be in demand in Kingston, Jamaica at any time in the last four decades.< The obvious (and positive) influence of such great Jamaican studio sound-crafters as King Tubby is solidly present as well. But these cats like to mix it up a bit, doing so with great skill on "Cumbia del Leon," which adds a Colombian bounce, the Augustus Pablo-like "Lankershim Dub" and through the addition of vocals that have a just-walked-up-to-the-microphone freshness on "Ethio-Steppers," "Sweet Soul Music" and a cover of "Think (About it)." This band is entitled to a bit of strutting, given the very high quality of the work they've done here. Buy the CDs:
Author:
Tom Orr
Tom Orr is a California-based writer whose talent and mental stability are of an equally questionable nature. His hobbies include ignoring trends, striking dramatic poses in front of his ever-tolerant wife and watching helplessly as his kids surpass him in all desirable traits.