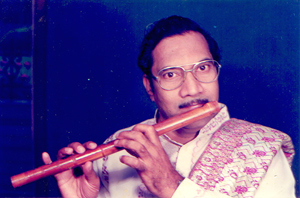 Ganesha is the god of wisdom and prosperity and is invoked before the beginning of any auspicious work by the Hindus. It is believed that for the fulfillment of one's desires, his blessing is absolutely necessary. According to the mythology, he is the son of Shiva and Parvati, brother of Kartikeya – the general of the gods. There are numerous stories in Hindu mythology, associated with the birth of this elephant-headed God, whose vehicle is the Mooshak or rat and who loves Modaks (droplet shaped Indian sweet).
Ganesh Chaturthi is an amazing feature of the Indian community prayers. And a Music Festival is one way of the traditional celebration.
The Ganesh Mandhir in Mayur Vihar Delhi (India)the 'Shri Subha Sidhivinayaka Mandhir Society, in collaboration with the music society 'Issai Kudumbam', (issaikudumbam@gmail.com) is conducting a five Day classical music festival starting on the 29th Aug 2008.
The major event is a Grand Flute concert by a Central Sangeetha Natak Academy awarded vidwan, a senior Vidwan with more than fifty years broadcast and concert experience Prof. Prapancham Sitaram.
Prof. Prapancham Sitaram has been the former Senior Director of Progames (Music) and Chief Producer and Conductor of National Orchestra of All India Radio.The versatile Genius Flute Maestro Prof. Prapancham Sita Ram was initiated into MUSIC WORLD by his father and into flute music by his grand uncle. Prapancham started his musical concert career as a child prodigy at the age of eight. Broadcasting since 1954 and telecasting from 1970, Prapancham Sita Ram (a disciple of Flute Mali), learnt advanced vocal music from his Gurus, Dr.Balamurali Krishna, Sandhyavandanam and Annavarapu and rose to the stature of a World-Class Top Flutist at a very young age. Prapancham Sita Ram is a Top Graded Flutist, Music Composer for All India Radio, Doordarshan (TV) and a senior artist in the panel of ICCR.
His innumerable National and International awards and honors include UNESCO sponsored Asian Rostrum Global First Prize (1993), President of India Awards twice (1957 and Central Sangeeth Natak Academy Award 2004),State Insignia Honor by King of LAOS(1964), 'Kalaimamani' title & honour by Tamil Nadu Government long back in 1983 itself.
The Delhi audience is all agog and awaiting to hear him with his accomplished accompaniment team: Date:30th Aug08 0530PM Onwards
'Kalaimamani' Prapancham Sitaram – flute
'Kalaimamani' VSK Chakrapani – violin
Delhi R. Srinivasan – mridangam
The venue is the Concert Hall (Shri Subha Siddhi Vinayaka Mandhir). This program is open to all and all are cordially invited.
This event is co-sponsored by M/S Arti Labchem Pvt. Ltd., Dombivli, Thane, (Maharashtra.)