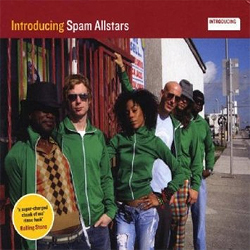 Spam Allstars new CD, Introducing Spam Allstars, will be released 26 August 2008 on the Introducing / World Music Network label. Spam Allstars are Miami's hardest-working Latin band. Spam music, grounded in Latin funk, mixes horns, improvisational electronic elements and turntables with hip-hop and dub, adding touches of Pythonesque (as in Monty Python) humor.
As the Spam Allstars see it, their mission is to 'blend improvisational electronic elements and turntables with Latin, funk, hip-hop and dub to create a sound that is unique – an electronic descarga.' In Spanish a descarga means 'electrical charge', and was first used by musicians fifty years ago to describe the Latin/jazz 'jam sessions' that took place in studios and dance halls. Their music can also be described as 'electro-charanga' – charanga is a genre of Cuban music as well as a band format that normally features flute and string section.
The themes of the songs are far from mainstream: 'Gallo Pinto' is a tribute to the national dish of Nicaragua, and to the loud roosters which live around the neighborhood where the band have their studio. A version of 'Descarga Gusano', on the other hand, was recorded for the Miami Heat NBA basketball team to use for their game intros. All in all, the music of the Spam Allstars is like a soundtrack to the crazy melting pot that is Miami.
The band has extraordinary musical pedigree. Headed by DJ Le Spam (aka Andrew Yeomanson) on turntables, samplers, guitar and bass, with Adam Zimmon (formerly of Shakira) on guitar, Tomas Diaz on timbales and vocals, AJ Hill (who played with everyone from Sly and the Family Stone to Herbie Han*censormode*) on saxes and vocals, Steve Welsh on saxes, Mercedes Abal from Havana (formerly with Albita) on flute, Chad Bernstein on trombone and vocals and the great Afro-Cuban percussionist Lázaro Alfonso (formerly of Irakere) on congas. In the last couple of years the Spam Allstars have had the privilege of performing and recording with legendary saxophonist, Pee Wee Ellis, who is the former musical director of James Brown.
Andrew Yeomanson (DJ Le Spam) formed the Spam Allstars in 1993, using samples and live instruments in the studio, resulting in their first album, Pork Scratchings, in 1999. Shortly after this they started their own night club in Little Havana, Miami, which has attracted a diverse and ever-growing crowd of Latins, Anglos, hip hop kids, and artists of all ages and nationalities.
Buy the CD:
Author:
World Music Central News Department
World music news from the editors at World Music Central