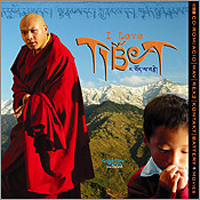 I Love Tibet (Discovery Sound, 2008) is a classy collection of Tibetan samples with a specially included movie. The faithful performances of sacred instruments & voices. In the Tibet Autonomous Region under the occupation of China, extreme human rights violations have continued, and their traditional Buddhist music is also in peril to disappear. Soon after his arrival in India in 1959, Dalai Lama re-organized the Tibetan Government-in-Exile, and their tradition and culture are still maintained by many Tibetan exiles settled in the town.
To record the genuine Tibetan samples on this library, Discovery Sound visited the refugee settlement under the Tibetan Government-in-Exile located in Dharamsala, Northern India.
I Love Tibet is a CD-ROM with 644 MB of 16-bit/44.1kHz recordings of loops, one-shots, and multi samples made using a varied cross-section of instruments – indispensable sacred percussion, wind instruments and sutras used in Tibetan Buddhist music – together with some more traditional percussion, string and wind instruments and Tibetan Opera which are familiar to Tibetan people.
Users will enjoy the instrumental performances included as a special movie as well as the live performance by monks in a temple on the disc.
The collection is available from www.discoverysound.com/en/DFSD700.