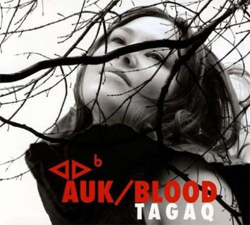 Tanya Tagaq
Auk/Blood (Ipecac Records, 2008)
After the 2005 release of her first debut CD Sinaa, Inuit throat singer Tanya Tagaq continues to dazzle audiences with her ongoing collaboration with Icelandic singer/songwriter Björk in recording the soundtrack to Matthew Barney's film Drawing Restraint 9, appearing on her Medúlla CD and performing with her on the Vespertine tour, as well as writing and performing for the Kronos Quartet project Nunavut. Now Ms. Tagaq is back with another CD out on Ipecac Recordings. Titling her latest work Auk (the Inuktitut word for blood), Ms. Tagaq returns full force with a collection of songs that seem captured from a Nunavut wind and settled down into contemporary settings.
Astonishing is the first word that comes to mind in describing Auk. Building up a force of layered growls, breathy intakes, gasping and shattering sobs around a lacy framework laid down by cellist Cris Derksen, violinist Jesse Zubot, drummer Graeme Peters and the electronic beats and samples of Mike Clark, Ms Tagaq creates a collage of sound that is arresting and visceral. Deepening her sound and music collaboration, Ms. Tagaq is joined by vocalists Buck 65, Mike Patton from Faith No More/Lovage and beat box artist Shamik. Opening track "Tiriganiak" (Fox) sounds as if it were ripped out of the very air of a Nunavut night with its windswept strings against Ms. Tagaq's arresting vocalizations, while following track "Ikuma" (Fire) heats up with growls and primal cries creating a back-of-the-neck-hair-raising affect.
Track "Gentle" travels in a hip hop direction with Buck 65 providing vocals against the silky beats set up by Ms. Tagaq. The evocative "Tategak" resembles like colored glass, smooth and mesmerizing with layers of starry vocals. Tracks "Force" and "Growl" pulse with edgy desires, while "Want" sizzles with Ms. Tagaq's breathy fire against Buck 65's vocals. Culling an erotic lure, Ms. Tagaq combines spoken words and gasps set against strings to ignite the track titled "Hunger," but it track "Burst" that pulses with Ms. Tagaq's heartbeat rhythm and a gasping that can only be described as deliciously carnal. Closing track "Sinialuk" creates a storytelling soundscape, replete with the chase and escape of breathy vocals and the snarling creatures Ms. Tagaq sets up on the listener's path.
Ms. Tagaq's vocals has filled Auk with whispered desires, full-throated cries of passion, breathy threads of fear and anguished cries, melding music and emotion. Lending her vocals to genres on Auk that range from contemporary classical to hip hop funk, Ms. Tagaq has propelled the tradition of Inuit throat singing beyond center and soared into an undiscovered land full of emotional exoticism.
Buy Auk/Blood
Author:
TJ Nelson
TJ Nelson is a regular CD reviewer and editor at World Music Central. She is also a fiction writer. Check out her latest book, Chasing Athena's Shadow.
Set in Pineboro, North Carolina, Chasing Athena's Shadow follows the adventures of Grace, an adult literacy teacher, as she seeks to solve a long forgotten family mystery. Her charmingly dysfunctional family is of little help in her quest. Along with her best friends, an attractive Mexican teacher and an amiable gay chef, Grace must find the one fading memory that holds the key to why Grace's great-grandmother, Athena, shot her husband on the courthouse steps in 1931.
Traversing the line between the Old South and New South, Grace will have to dig into the past to uncover Athena's true crime.