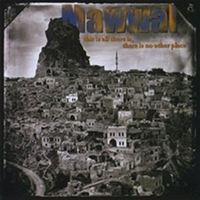 Mawwal
This Is All There Is There Is No Other Place (Ancient Records, 2008)
Following up on their debut CD entitled Black Flies, Mawwal is back with a new set of songs steeped in the group's eclectic blend of world fusion. Titling their latest release This Is All There Is There Is No Other Place, Mawwal offers up some deliciously exotic tracks with guest appearances by bassist Percy Jones, percussionist Shane Shanahan, violinist Rohan Gregory, tabla master Harshal Tole, African drummer Tony Vacca and vocalist Jim Cole.
Steeped in a fantastical Middle Eastern sound, Mawwal dodges the rules on This Is All There Is There Is No Other Place by incorporating bits of stratosphere sailing violin, kick-ass guitar and bass lines and earth shaking percussion. Opening with a traditional Afghani tune, musically enhanced by the band's composer, arranger, guitarist and lutist Jim Matus and lyrics and melody by Nusrat Fateh Ali Khan, "Mondanabosh" leaps headlong into the unexpected with flashes of laouto, saz, djembe and riq against the soaring vocals of Matus and Jill O'Brien and Rohan Gregory's violin. Bending, twisting and defying genre lines, Mawwal whips up a frenzy of goodness on "Ho Gaye," with chunky bass lines laid down by Percy Jones and Harshal Tole's spell-inspired tabla playing.
The percussion on "Bela Sehida" with Mawwal's drummer Mike Keyes, Shane Shanahan on dumbeck and Tony Vacca on djun djun, rattle and tama, sends this traditional Kurdish tune off into uncharted terrain against the bright work of violin, laouto and saz. "Mawwaltz" is possessed by a maniacal funkiness fashioned out of lauto, saz, mandocello, bass, drums, riq, djun djun, kenkene, metal wah shaker and Jim Cole's stupendous harmonic singing. Crazed and crafty, Mawwal tears through title track "This Is All There Is, There Is No Other Place" with music and lyrics by Jim Matus with additional lyrics from the Lord's Prayer in Aramaic. "Helalisa," "Agg Damen" and "Allah Hu" are equally startling tracks, where the intricate blending of East and West creates music that is outlandishly hypnotic.
Unconventional, fantastical and delightfully extravagant, Mawwal's This Is All There Is There Is No Other Place is magically mesmerizing.
Buy the CD: This Is All There Is There Is No Other Place
Author:
TJ Nelson
TJ Nelson is a regular CD reviewer and editor at World Music Central. She is also a fiction writer. Check out her latest book, Chasing Athena's Shadow.
Set in Pineboro, North Carolina, Chasing Athena's Shadow follows the adventures of Grace, an adult literacy teacher, as she seeks to solve a long forgotten family mystery. Her charmingly dysfunctional family is of little help in her quest. Along with her best friends, an attractive Mexican teacher and an amiable gay chef, Grace must find the one fading memory that holds the key to why Grace's great-grandmother, Athena, shot her husband on the courthouse steps in 1931.
Traversing the line between the Old South and New South, Grace will have to dig into the past to uncover Athena's true crime.