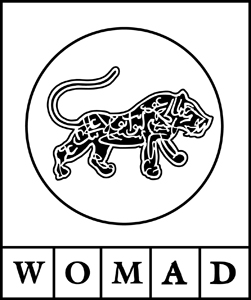 WOMAD is the quintessential music festival. A festival of music, arts and dance that reflects the sort of world we'd all like to live in. A festival that has become both a byword for quality and a legend in its own (26 year) lifetime, and it's less than three weeks away.
Returning to WOMAD this year In Conversation Sessions – a series that made its smash hit debut at WOMAD Charlton Park last year. Here is your opportunity to learn more about some of the artists at WOMAD, who'll be chatting informally with their host about their lives and their music: David D'Or, Damien Dempsey, Celso Alvin from Monobloco and members of Siyaya are just a few of the artists confirmed so far.
Eating your way around the world at WOMAD's famous Global Village is definitely a priority at the festival, and this year there are some new eateries and drinkeries to check out including: the Hurly Burly Cabaret Café showcasing some weird and wacky performers; San Fran's Disco Cocktail Bar where you can sip a well-mixed mojito in a comfy chair; and the Real Ale Bar showcasing some lovely local brews.As well as all the amazing activities available at Charlton Park this year, the organisers have including a little calmness among the dizzying array of entertainment. Over in the leafy arboretum the World Of Wellbeing will be offering twice-daily Qi Gong sessions, outdoor yoga, an English tea garden and a sushi restaurant located in a Mongolian yurt. Paradise, indeed – but wait! The de-stressing continues in the WOMAD Spa – an area of unapologetic luxury where you can rest, shower and chill; use make-up mirrors, hairdryers and fluffy towels. You can choose from a selection of luxury treatments. Hey, you can even get your hair done.
With over 70 world-class acts from more than 35 countries playing across this three-day weekend, highlights will be many: an inevitably blistering performance by French-Algerian rocker, Rachid Taha, on Friday. The same day that's offering a riotous Irish ceilidh with the Sharon Shannon Big Band. Not to mention celestial strings courtesy of Malian kora maestro, Toumani Diabaté.
Saturday's program boasts the fabulously edgy Canadian singer/songwriter, Martha Wainwright, along with Los Angeles-based Cambodian rockers Dengue Fever, Balkan/gypsy party-starter DJ Shantel and fabled reggae artist, Eddy Grant. And a new addition: the golden-voiced Wasis Diop, mixing traditional Senegalese folk with modern pop and jazz.
Sunday is set to shine brightly with the kings of Senegalese swing, Orchestra Baobab. Feel-good power-popsters and British institution, Squeeze. Chinese sensation Sa Dingding. Jamaican guitar god, Ernest Ranglin. And now, bringing the weekend to a rollicking close: Seun Kuti and Egypt 80.
Weekend Ticket: £125
Concession Ticket: £100 (ES40 claimants, students, over 60s & 14-17 year olds)
Disabled '2 for 1' Ticket: £100
Sunday Day Ticket: £50
Thursday Camping: £10 (Allows access from 8am on 24 July with Weekend Ticket)
Kids Tickets: Two children aged 13 and under can come FREE with each adult ticket holder
BOOKING DETAILS:
Online: www.WOMADshop.com & www.WOMAD.org/charltonpark
Phone: 0845 146 1735 (lines open Mon-Fri from 10am-3pm for credit/debit card bookings)
LINE-UP DETAILS
Abass Dudu (Ghana) – Adrian Sherwood (UK) – AltaiKAI (Altai Republic) – Andrew Cronshaw And… (UK/Armenia/Serbia) – Asif Ali Khan (Pakistan) – Atongo Zimba (Ghana) – Babylon Circus (France) – Bassekou Kouyate & Ngoni Ba (Mali) – Bedouin Jerry Can Band (Egypt) – Bella Hardy (UK) – Billy Cobham & Asere (USA/Cuba) – Cara Dillon (Ireland) – Charlie Gillett (UK) – Chic (USA) – Children Of The Khmer, Cambodian Dance (Cambodia) – David D'Or (Israel) – Dengue Fever (USA/Cambodia) – Devon Sproule (USA) – Dixey Ruscelli (Spain) – DJ Dubious (UK) – DJ Marky & Stamina MC (Brazil/UK) – Eddy Grant & The Frontline Orchestra (Guyana/South Africa) – Ernest Ranglin (Jamaica) – Finley Quaye (UK) – Fribo (Norway/UK) – GOCOO + GoRo (Japan) – Greg Sheehan (Australia) – Guy Watson (UK) – Hamid Baroudi (Algeria) – Hossam Ramzy & His Egyptian Orchestra (Egypt) – Hotel Palindrome (Austria) – Iya Sako & Nansady Keita (Guinea) – Jah Wobble, Chinese Dub (UK/China) – Joe Taylor (UK) – Johnny Kalsi (India/UK) – Jose Ferrera (Cuba) – Justin Adams & Juldeh Camara (UK/Gambia) – Kenge Kenge Orutu Systems (Kenya) – Kora (New Zealand) – Landing Mané (Senegal) – Lee 'Scratch' Perry (Jamaica) – Lisa Kenny (UK) – Little Axe (USA) – Little Feat (USA) – Lo Còr De La Plana (France) – Madosini (South Africa) – Malam Mamane Barka (Niger) – Mamani Keita & Nicolas Repac (Mali/France) – Marino Pool (Dominican Republic) – Mark Alcock (Japan) – Martha Wainwright (Canada) – Mavis Staples (USA) – Mbira Queens feat. Zuzana Novak (UK/Czech Republic) – Mista Savona (Australia/Jamaica) – Modou Diouf (Senegal) – Mog (Ireland) – Monajat Yulchieva (Uzbekistan) – Mônica Vasconcelos & Hih (Brazil/UK) – Monobloco (Brazil) – Mor Karbasi (Israel) – Nathan 'Flutebox' Lee (UK/India) – Orchestra Baobab (Senegal) – Paprika Balkanicus (Romania/Serbia/Slovenia) – Rachid Taha (Algeria) – Roni Size Reprazent (UK) – Rumberos De Cuba (Cuba) – Sa Dingding (China) – Sarah Savoy & The Francadians (USA/France) – Sarmistha Guha (India) – Seun Kuti & Egypt 80 (Nigera) – Shantel & Bucovina Club Orkestar (Germany) – Sharon Shannon Big Band feat Shane MacGowan, Damien Dempsey and Mundy (Ireland) – Sheikh Taha (Egypt) – Show Of Hands with Miranda Sykes (UK) – Simone White (USA) – Siyaya (Zimbabwe) – Son De La Frontera (Spain) – Speed Caravan (Algeria/France) – Squeeze (UK) – Sudd MM (Sicily) – Svetlana Spajić with Andrew Cronshaw (Serbia/UK) – Tashi Lhunpo Monks (Tibet/India) – TC (UK) – Terakaft (Mali) – Toumani Diabaté (Mali) – Transglobal Underground (UK) – Venuri Perera (Sri Lanka) – Yescica Livesey (Cuba)
WOMAD Charlton Park 2008
Malmesbury, Wiltshire, SN16 9DG
Author:
World Music Central News Department
World music news from the editors at World Music Central