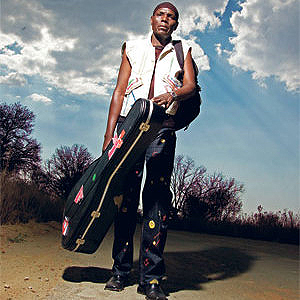 On Tuesday, July 29th, S.O.B.'s presents Afro-pop icon, Oliver Mtukudzi and his legendary band, The Black Spirits. Arguably the most powerful creative force to emerge from Zimbabwe in the last three decades, Mtukudzi carefully balances compelling rhythms and accessible melodies with insightful lyrics, building a vast body of work that is politically and socially relevant, yet entertaining and accessible to a worldwide audience.
Mtukudzi is such a musical force that his name has become synonymous with his style, and "Tuku music" has evolved into something quite distinct from any other Zimbabwean music. Clearly, his cultural influences are evident – the traditional forms of the mbira, the South African mbaqanga style, and the popular Zimbabwean music style called jiti, are all evident in his sound – but these have been distilled into an aesthetic that is now very much his own.
In October 2007, Oliver performed for a sold out crowd at S.O.B.'s, to celebrate the release of his latest album Tsimba Itsoka, which has garnered considerable media attention throughout the year. Oliver "Tuku" Mtukudzi to S.O.B.'s for 2 shows to bring the sounds of Zimbabwe to New York on July 29th.
Ticket Info: $28 Advance/$30 Day of Show; Available at Ticketweb and S.O.B.'s Box Office.
Early Show: 8pm; Late Show: 10:30pm (Separate Admission)
Buy Tsimba Itsoka.
Author:
World Music Central News Department
World music news from the editors at World Music Central