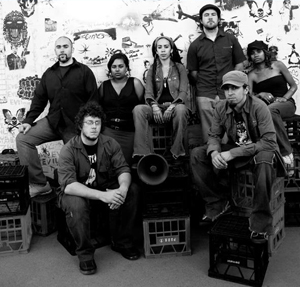 Blue King Brown from Australia, will be touring North America when they bring their power packed live show to venues in August of 2008. Hard hitting Urban roots music in the truest sense, with dub, hip hop, afro beat, Latin and soul influences Blue King Brown, already a huge success in Australia and Japan, are now hitting US and Canadian soil armed with words and music that reflects the past, acknowledges the present and represents the future.

Sharing stages across the world with the likes of Damien 'Jr gong' Marley, Santana, The John Butler Trio, Michael Franti and Spearhead has brought this incredible band's craft to a higher level and a diverse market reach. Peter Gabriel's WOMADelaide, Big Day Out, and Al Gore's Live Earth 2007 are just some of the highlighted festivals that have given Blue King Brown their platform to spread their music and message.
Though still relatively young and fresh to the scene BKB's talent has already been recognized and acknowledged through collaborations on their upcoming album with Sly and Robbie, Jah Mason, Rovleta Fraser and renowned engineer BONZAI (know for his work with Damian & Stephen Marley amongst many others) assisting Blue King Brown in studios from Australia (SING SING) and Jamaica (Anchor Studios & Bob Marley's legendary TUFF GONG studios) to New York and San Francisco.
Fronted by the lyrical Natty Arrow on vocals and guitar, mixed with the rhythm machine of Carlo Santone (bass), Sam Cope (keys), Salvador Persico (percussion) and Pete Wilkins (drums) to create a vibe and stage presence uniquely their own that is a must to be witnessed live! The back-up vocal intertwining of Hailey Cramer and Ngaiire add that R&B flair that keeps the audiences clamoring for more. The sum is definitely more important that all of the parts in Blue King Brown, a band that can transition their audience from dub reggae to hard hitting Afro-beat political decrees without as much as a misstep.
"BKB are one of those unique truth-telling outfits in our business that defy time. Amazing musicians with a powerful message. What a concept, huh?" – Serj Tankian
"Blue King Brown is my favorite band right now. They embody everything I love in music from Ozomatli, African bands, Tower of Power to Santana. They are the voice of the street and the band of the future!" – Carlos Santana
Complete Tour:
Thursday July 31st Temple Bar Santa Monica, California
Friday August 1st Reggae Rising Festival Piercy, California
Saturday August 2nd Doug Fir Lounge Portland, Oregon
Monday August 4th The Independent San Francisco, California, supporting Julian Marley
Tuesday August 5th El Corazon Seattle, Washington
Thursday august 7th Media Club Vancouver, British Columbia
Friday August 8th The Habitat Kelowna, British Columbia
Saturday August 9th Shambhala Salmo (Nelson), British Columbia
Sunday August 10th Crankworx Festival Whistler, British Columbia
Tuesday August 12th Wild Bills Banff, British Columbia, supporting Buckwheat Zydeco
Wednesday August 13th Marquee Room Calgary, Alberta
Friday August 15th Double Door Chicago, Illinois
Tuesday August 19th Harpers Ferry Boston, Massachusetts
Thursday August 21st Sullivan Hall New York, New York with Theresa Andersson
Friday August 22nd Recher Theatre Towson, Maryland with Danielia Cotton
Sunday August 24th Castaways Ithaca, New York
Author:
World Music Central News Department
World music news from the editors at World Music Central