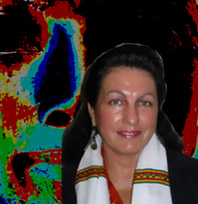 Turiya Mareya and timbalero Charlie Chavez will perform at the Baja Jazz Festival2008 in Tijuana. the concert will take place July 26th at Casa De La Cultura at 9:30 pm
Mareya was raised in the vibrant border of Tijuana and San Diego. She started playing with Mexican dance bands at a young age and later studied Jazz under the direction of Mr. Daniel Jackson, one of the West Coast Jazz Legends. She studied also at the Creative Music School in Woodstock but most of her musical instruction came from the streets, the clubs and fellow musicians. She began playing Latin Jazz with the Tambu International Ensemble, moving to Vera Cruz and living later in Mexico City.
Returning to the border she was active in the jazz and Latin music scenes. In 1992 she became the musical director and pianist for the Kokopelli Latin Jazz Ensemble. The group went to become a Southern California legend recording their " La Luz Eterna" and performing at all major area festivals opening for Poncho Sanchez, Arturo Sandoval, Eddie Palmieri, Jane Bunnett and David Murray.

In 2003 Turiya began working as a solo artist going first to Juneau Alaska where she performed with Afro-Peruvian Percussionist Antonio Diaz and to Anchorage where she performed with Hector Diaz y su Orchesta Tropical. She moved to Madrid in 2004 and was active in the incredible music scene there. In 2005 she toured Canada working in Toronto with her band which featured some of the top Toronto Cuban artists. She also toured British Columbia working with Cuban artists Adonis Puentes and Gilberto Moroeax on Vancouver Island. She recently toured the Yucatan performing weekly at Mérida's popular Jazz club Jazz'in Merida. Mareya has lived and worked for years in Mexico and Baja. She heads the Bi-nacional Jazz Descarga and the Tijuana Latin Jazz Project.
Her touring band features some of the most exciting contemporary Cuban artists based in California, including including Felix Betancourt on tenor, Lazoro Poey on drums and Ignacio Arango on bass.
In October of 2008 Turiya Mareya will be headlining at the Puerto Peñasco Jazz Festival in Sonoro Mexico. Descarga in Tijuana.
More information at www.bajajazzfestival.com